Loads to see and do for Sleaford RiverLight Festival
There is a huge range of entertainment and activities linked to the upcoming RiverLight Festival in Sleaford, both in the run-up over the coming week and during the event on Saturday October 21.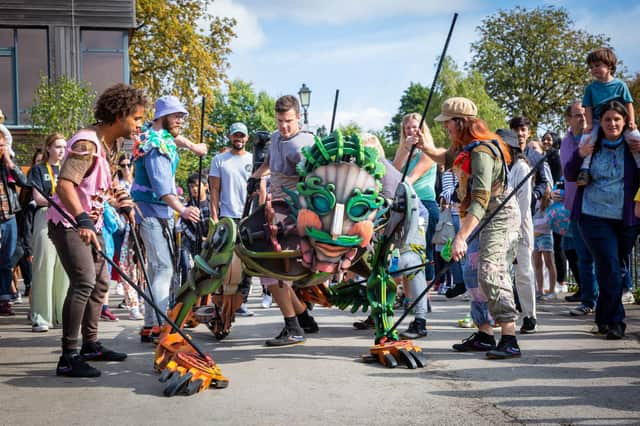 Here we give a run down of most of the attractions you may wish to attend.
Sixteen Eighty Five, Early Music Concert, 7–9pm, St Denys Church, Market Place, Sleaford NG34 7SH. Tickets £12 (£10) + booking fee. A concert of Renaissance and Baroque music by Byrd, Weelkes, Handel and Vivaldi performed on voice, recorders, crumhorns, harpsichord, viols and percussion by Christine Hasman, Helen Mason, Jane Stubbs, Victoria Carter with Wendy Leonard (soprano). Go to: https://www.eventbrite.com/e/1685-early-music-concert-tickets-649812395367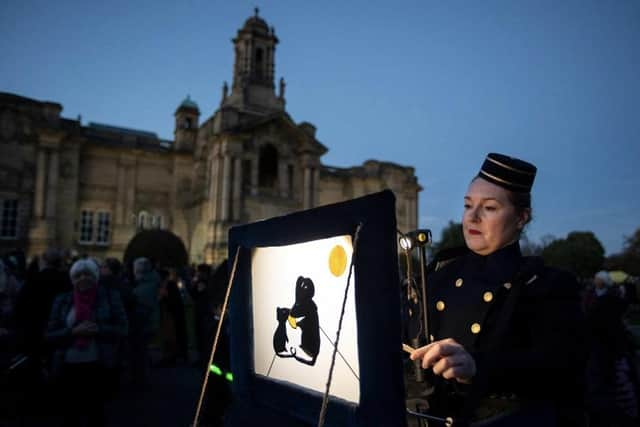 An Intro to the Ukulele with Sleaford Ukulele Orchestra, 11am-12pm, at The Hub. Free entry but please book on 01529 308 710 or email:[email protected] , for ages 12 upwards. Ukulele workshops for beginners during the fringe week of the RiverLight Festival with those taking part in the workshop having the opportunity to join the Sleaford Ukulele Orchestra during a live performance at 11.30am on Saturday October 21.
Lantern Making Workshops, October 14-15 12pm-4pm and October 21 12pm-3pm. Lumo Workshop will be running free drop in workshops at Cogglesford Mill, Eastgate, Sleaford NG34 7EA to create large-scale tissue paper and willow lantern sculptures for a nature-inspired installation along the River Slea outside the Hub.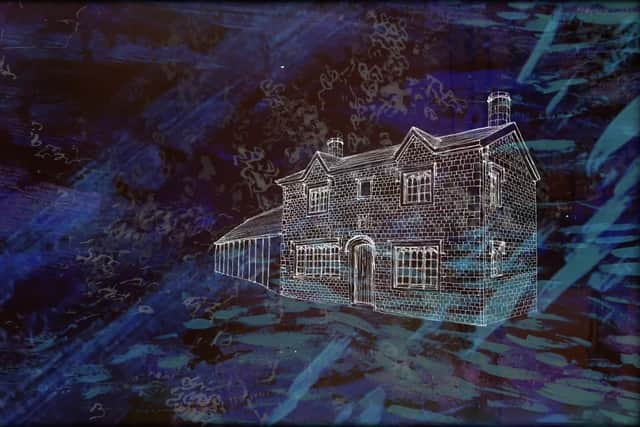 Look out around town for giant floating lilies, a group of bright blue herons, and a flotilla of paper boats, and be sure to join the lantern parade on Saturday October 21 at 5pm as part of RiverLight Festival from Cogglesford Mill to Eastgate Green where you will see more large scale lanterns.
Flag Stories by Charlotte Tupper & Museum Volunteers. A series of textile flags will decorate different shop windows, celebrating the Sleaford Museum's volunteer service and sharing the local histories of people and places that make up the town of Sleaford.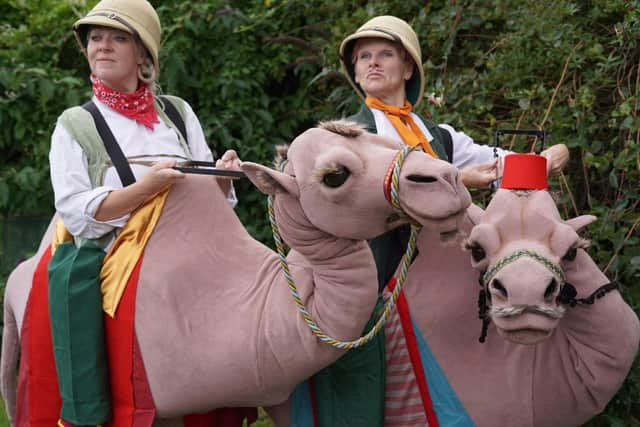 Sat 14 — Sat 21 Oct 10am — 4pm
Water Marks Exhibition by Kelly Barfoot at Carre Gallery, 29 Carre St, Sleaford NG34 7TR, 10am-4pm. A collaborative piece between artist, The Slea and river light.
Using small quantities of river water extracted at key locations throughout the town, bold and intriguing cyanotype prints will be created allowing us to see what the river has to say! Cyanotypes are one of the oldest camera-less photographic processes, discovered in the 1840s, typified by rich blue colours which result from exposure to UV light.
Kelly will be giving an informal talk/walk through the work on Saturday October 14 at 10.30am and again at 2.30pm. It is free and all are welcome.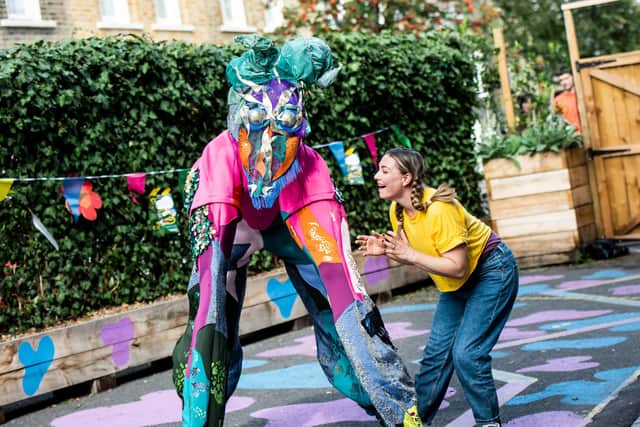 Classical 4 All: Relaxed Performance with Khrisma4 and Oleta Haffner, 1pm‑1.13pm & 1.45pm‑2.15pm. Free entry, drop in to The Hub. Enjoy a short family-friendly string quartet performance with a relaxed attitude to noise. Bring a teddy, meet a real classical composer, and have a go on some instruments. Babies and children of all ages welcome.
Later in the day at 2.30-3.30pm, there be a full performance featuring the world premiere of "Unplug" by Oleta Haffner, and quartet music by Chevalier de St George, Fanny Hensel, and Haydn's "Lark Quartet." Calming, exhilarating, inspiring, mischievous, gentle, ethereal, and everything in between. It is free but please book, for 12 years and upwards.
Celebration Ceilidh Dance with Higgledy Piggledy Band, 4–7pm, at Sleaford Masonic Centre, 8 Water Gate, Sleaford NG34 7PG. Free entry, all welcome to drop in. Comprising fiddle, bass, drums and guitar/caller, Higgledy Piggledy Band is one of the Lincolnshire's longest running and most popular ceilidh bands.
They have played at events country-wide to dancers from the most experienced to the rawest of new recruits. Whatever the audience the band seek to make the event fulfilling, enjoyable and, most of all, great fun.
Don't worry if you don't know the dances, they will show you the moves! By the end you will be brilliant ceilidh dancers. Honest!
Acoustic Jam Night at The Hub, 6–9pm. Come along to this acoustic jam night where the emphasis is on joining in and working with other musicians, so expect original material, covers, improvisation and so much more! it is free and all welcome
Boys Brigade Open Evening, 6.15–8pm, at Riverside Church, Southgate, Sleaford NG34 7RY. Come along - open to any boy wishing to experience boys brigade and find out more about what they do. It is free to drop in at 6.15pm - (7-10 yrs), 7pm (10-18 yrs).
Navigation Projection by Will Lindley, 5 – 10pm. A moving image projection onto the side of Navigation House, created in response to the histories of Cogglesford Mill and Navigation House, the River Slea and Slea Navigation. The project incorporates community input through a workshop at a Sleaford school and a drop in workshop at Cogglesford Mill. It is free to view.
Tea Dance with Go Dance, 1–3pm. Join Go Dance for an afternoon Tea Dance at the Hub, Sleaford, where you can practice your Ballroom and Latin moves and enjoy a laid back afternoon. Tea, coffee and cake will be available. Please book, all welcome
Girls Brigade Open Evening, 6-8pm. Open to any girl wishing to experience girls brigade and find out more about what they do. It is free, drop in at 6pm (4yr-10 yrs), 7pm (11-18 yrs) at Riverside Church, Southgate, Sleaford NG34 7RY.
Friday October 20 & Saturday October 21
Illuminated West Banks Bridges by Local Residents, 6 – 10pm. The bridges along West Banks will be lit again by residents and bridge adopters to create a beautiful light display. This follows last year's Riverlight 22 where recycled and hand created lights and lanterns were hung across the River Slea. Walk down at dusk or drive in to Sleaford from Castle Causeway to get a good view of this road's celebrated 22 bridges. This event is free to view.
Sleaford Ukulele Orchestra, on Eastgate Green, 11.30am–12.15pm. The Sleaford Ukulele Orchestra, based in Sleaford, was formed in late 2007. The orchestra currently has nine musicians playing a variety of instruments from the ukulele family. They play an eclectic selection of music, modern and not so modern, and may throw in the odd jazz number. The performance is free and all are welcome.
Iron D'Ukes Pop Up Concert, 12.45–1.15pm. A free, laid back pop up performance in the Community Room at Sleaford railway station.
Saturday October 21Italian Chalking Art with Urban Canvas, 11am–3pm. Using a 500 year old chalking technique, and introducing poster paints, artist's pastels and pavement chalks, this installation will be a collaborative artwork at the Riverside Precinct, Sleaford, for all to join in for free.
Everybody gets the chance to take part in creating this piece, even those just passing by won't be able to resist stopping to help for a moment, or popping back to see how things are going. The end result will be a beautiful piece of art that everyone feels a part of, and will be the talk of the town.
Out of the Deep Blue - Autin Dance Theatre, 11.30am–3pm, in Sleaford Market Place. An outdoor family spectacle featuring a 13-foot-tall Sea Giant Puppet and a dancer.
Waves wash Eko, a sentient Sea Giant, onto the shore. There he encounters little Violet. These two beings - an ancient creature, and a young girl – offer us their stories: an impactful dialogue around our earth's climate emergency told through dance, movement and masterful puppeteering. Ideal for children and family audiences, it is a story about the power of friendships and empathy that speaks to the world at large.
Walkabout: 11.30am, Show: 11.50am-12.15pm; Walkabout: 2pm, Show: 2.20-2.50pm; Walkabout: 4pm, Show 4.20-4.50pm. All free to view.
Submerge: Unify Dance Show by Hub Dance Team, 1.30 – 1.40pm and 3 – 3.10pm at the Riverside Precinct. Unify Dance Company are excited to showcase their new work 'Submerge' which they have been creating with performer and theatre maker Martyn Bignell in collaboration with Emma Bouch and Rebecca Cram from the hub dance team. Unify is a creative contemporary dance class open to all and specifically tailored for adults with a learning disability, neurodiverse or both. Submerge explores the dancer's relationship with water its fluidity, movement and ever-changing evolving shapes.
Rhubarb Theatre, Collection Day and Safari So-Goody, 10.30am–3.30pm, free drop in street threatre performances. Collection Day is at Sleaford Children's Centre in Money's Yard, 10.30am–11am and 11.30am-2pm.
It's bin day and two rambunctious refuse collectors are heroically cleaning the streets. But what's this? A dustbin that refuses rubbish. Delving into its depths, we discover that 'one man's trash is another man's treasure', as a wonderful myriad of stories and treats ensue from all that is rubbish and recycled.
Safari-So Goody, Walkabout is on at 1.30–2pm in Money's Yard and 3–3.30pm at Church Lane School. Josephine and Gerald are out on safari and are hoping to meet some of the locals. Ideally taking in the sights, stopping off for tea and enjoying pleasant conversation, but their pesky camels have other ideas.
Circus Starlight Autumn Fun, at St Denys Church, Sleaford, 12–3.45pm, free drop in, workshops suitable for ages six-plus, show suitable for all ages. Circus Workshops 12pm & 1pm, Autumn Fun Circus Show 3-3.45pm.
Creature Comforts by Feet Off the Ground, 1 – 1.30pm and 3.10 – 3.40pm at the Riverside Precinct. This family-friendly outdoor show follows the story of Flynn, whose phone is consuming her mind, squashing her imagination and flair. Absorbed in her phone, she doesn't even notice the appearance of a large, mysterious four legged creature. Can she stop scrolling and start strolling with this magnificent creature? Will she leave behind her creature comforts and enter a world full of fun and magic!
Come and celebrate the power of play, friendship and imagination. It is free to all to view.
Sleaford Islamic Centre Open Day, free to drop in 10am-4pm, all welcome at 3 Station Road, Sleaford NG34 7RG with music, food, artwork and henna painting.
Eco Village at Church Lane Primary School, 11am-4pm, free drop in event.
Plastic Free Sleaford – A weaved installation made from products set for landfill. Incorporating pre-made paper yarn and plastic yarn and individual plastic waste.
The activity will share knowledge and make individuals aware of what can be used to create Textile Fibre art, this will encourage you to create pieces either on a mini loom or a coil weave vessel. These pieces will be attached and stitched together creating a large wall hanging which can be viewed on the day and in a gallery setting. By the end of the day the weave piece should be complete!Clothes Swish – Everyone is welcome to the Clothes Swish! Join in this free and fun community event by bringing preloved adults or children's clothing, shoes or accessories to swap for new to you pieces.
Drop off up to six items between 11am and 12pm at the Eco Village at Church Lane Primary School and Nursery. For each piece donated, you will receive a token that can be exchanged for another item. Pop back with your reusable bag to use your tokens between 12pm and 4pm.
Pedal Powered Cinema – A series of films shown on a cinema powered by your pedalling! Some of the films shown are animations created by Charlotte Bill in collaboration with local school children.
Treemendous Walkabout by Megabeast. A humungous dose of magic is coming to Sleaford for RiverLight in the form of the 9-foot fully-mobile lumbering tree-men, Treemendous. These lovable, towering Treants are sure to bring delight, tree humour and a plethora of insta-worthy photo opportunities.
Their walkabout will take place at: 12–12.30pm, Church Lane School; 2–2.30pm, Millstream Square; 4–4.30pm, Eastgate Green.
Saturday October 21The Usherette, 1.40–2.20pm at Sleaford Muse­um and 3.40–4.20pm at Mill­stream Square. As the lights fade, join Fettle & Fable Theatre for a walkabout show as The Usherette performs 'Eek!', featuring mice, mischief and mayhem as we follow our dreams and reach for the moon!Eek! is a delightful spectacle for everyone, delivered through the magic of shadow puppetry… a fun, heart-warming tale of tenacity and team-work!
The show is free to view.
Bedehouse Chapel Open Day, Eastgate, Sleaford, NG34 7DL, drop in, all welcome, 11am to 1pm and then 2.30pm to 5pm. This is a rare opportunity to see the Bedehouses Chapel which is usually closed to the public.
Former Housing warden and resident Patricia Wing will be at the chapel to talk to visitors.
Bristol Arcade: Music and Food Stalls, 10am–5pm. Bristol Arcade will be where you will find a host of brilliant shops, food stalls, bands and performers from 10am on the festival finale day.
10 -10.45am - Solo vocalists/busking
11-11.45am - The GateCrashers
1-1.45pm - Hedgehog Reality
2-2.45pm - The Resurrection Machine
3-3.45pm - Take Note Choir
All of the musical acts for Bristol Arcade have been programmed by Chelsey Bamford who is also nominated for best female vocalist at the National Entertainment Awards!
Family Creative Workshops. These are free to drop.
Hub - Festival Accessories Workshop with Lee Sass 10am–12pm and 2-5pm
Sleaford Children's Centre - Craft Activities for under 8s and families 10-2pm, Early Years Room
Eastgate Green - Windmills Workshops (all ages) with Mark Clarke 10am–1pm and 3–6pm
Riverside Centre - Italian Chalking Art with Urban Canvas 11am–3pm
St Denys' Church - Circus Workshops with Circus Starlight 12–2pm
Cogglesford Mill - Mini-Lantern Workshop with Lumo Workshop 12–3pm
(Lantern Parade 5–5.30pm from Cogglesford Mill to Eastgate Green)
Mothership DJs disco on Eastgate Green. Iconic, eclectic, euphoric music to celebrate the 20th anniversary of The Hub, 6–8pm.
Artworks on Eastgate Green, 11am-8pm.
Jason & his Argonauts by Jason Wilsher-Mills – Artist Jason Wilsher-Mills will exhibit three of his huge psychedelic inflatable sculptures, which depict larger than life characters, which have been created with disabled communities both in the UK and Japan. The three 'argonauts' have been exhibited around the world, and are humorous, positive affirmations about disability and the disabled people Jason has worked with, over the past 15 years.
Spread Your Wings by Ruth Burrows & Hannah Price – created with the local community at drop in workshops and group sessions. With the River Slea Kingfishers as initial inspiration the wings will be created from hundreds of colourful feathers, illustrating individual hopes, plans and ambitions as we move beyond the pandemic and through current challenging times together.
Drift by Lumo Workshop (Nadya Monfrinoli and Louise Jones) – Lumo Workshop has been working with over 90 local children to create large-scale tissue paper and willow lantern sculptures for a nature-inspired installation along the River Slea outside the Hub. Look out around town for giant floating lilies, a group of bright blue herons, and a flotilla of paper boats, and be sure to join the lantern parade from Cogglesford Mill where you will see more large scale lanterns.
Drop-in to Cogglesford Mill on Saturday October 21 to make a festival decoration to take away with you. It will light up so why not bring it to the evening event and join the parade?
Sleaflora by Emily Cartwright with Kesteven & Sleaford High School 10am–5pm at Bristol Arcade & Riverside Precinct.
'Aeolian Sound Sculptures' by Dan Fox, 11am-8pm, in Navigation Yard, all welcome and free to view. Five different wind driven sculptures producing acoustic sounds that change with the speed of the wind.An ever changing soundscape. Made of aluminium, steel, copper, nylon and bamboo. Each instrument has a different mechanism to create and amplify the sounds.
Spinning flutes powered by anemometers, bass from a vibrating pallet strap connected to a large bass drum, a towering Aeolian harp with eight strings that creates choir-like harmonic chords from an antique copper timpani and a whistling weather vane. All illuminated by battery powered LED light tubes.
Live Music at Rewind Bar, Southgate, Sleaford NG34 7RQ,  2–6pm and 8–10.30pm.
The afternoon session will feature a selection of talented young musicians, followed by an evening of free live music from brilliant local bands, all programmed by Shug Studios. Acts include: News for Parrots, Kings & Bears, Blues Box, Chekhovs Gun, The Everglades, The Shugs and Sam Bickmore.