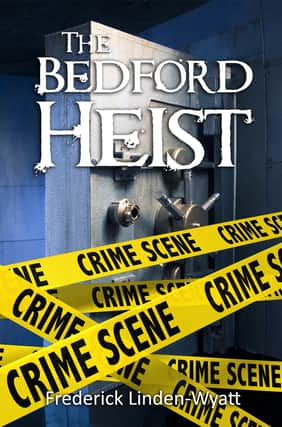 Frederick Linden-Wyatt, 73, of Great Hale, has penned The Bedford Heist – a crime fiction novel.
The husband and grandfather took inspiration from challenges being faced in the UK, seemingly without end.
"I had been involved with a lot of charity work (especially on autism) and I wanted to highlight the problems that faced Britain year after year," he said. "Research showed me that writing a book just about the country's problems that never get fixed would be rather boring and would sell very few books. I had always loved Bedford and hearing the chief constable stating that he didn't have enough staff to answer 999 calls gave me the theme for The Bedford Heist."
Frederick's interest in writing a book stems from a turbulent period in his life.
In 2000, he was left in a coma after a hip replacement operation went awry. Years later, he discovered he had suffered from fat embolism syndrome, a life-threatening condition which cost him most of his memory.
The memory loss also meant Frederick had to give up his successful print consultancy and sell his family's kennels and cattery.
"After coming out of my coma I had terrible problems with my memory and sight in my right eye," he said. "The fat embolism not only hit my brain but also damaged my eyesight. For two years I had to live with a red dot flashing on and on in the back of my eye. It was very annoying but corrected itself after a few years. Once my eyesight corrected itself I took up reading and I suppose seeing that others could do it [writing], I wanted to join them."
Of the finished product, he said: "Having never been in prison I knew little about the problems that faced both staff and inmates within a prison so I did a lot of research and I'm happy with what I achieved."
n The Bedford Heist is available from Amazon books.