Wartime Friends: Margaret Dickinson best-seller celebrates unbreakable bonds
WARTIME Friends is the story of unbreakable bonds forged during the horrors of global conflict - with all the poignant emotions of our current times.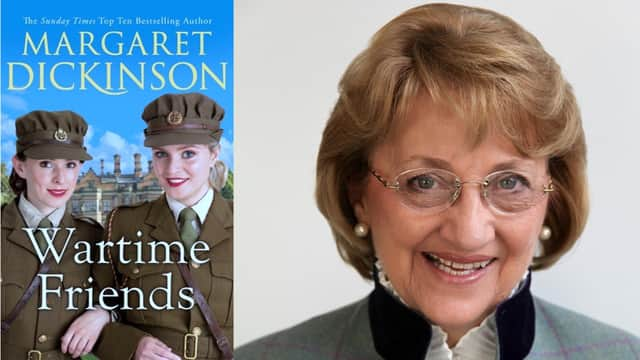 It tells how friendships strengthen in the face of personal adversity and when lives of those they love are put at risk.
It could easily be set in war torn Ukraine. But it isn't.
And while comparisons can easily be made between then and now, with human emotions and battling determination of people at war, in an exclusive chat the author revealed why she would never set her novels anywhere else.
The acclaimed Queen of Sagas, the genre which chronicles the lives and people over a period of time, says it's about having the researched knowledge to bring her stories and characters to life.
LISTEN: Hear Margaret's interview with Graham Walker in a free podcast now on Audioboom – CLICK HERE.
Margaret, a prolific writer, whose career total of 38 books to date - this being her 29th consecutive for publishers Pan MacMillan – explained: "I write what are called 'family sagas' and they are traditionally set in the first part of the 20th century. So you're talking 1900 to about 1960. And of course, you keep running into two World Wars. The research is easy to do.
"I think in modern times, it would be up to somebody in Ukraine to write about what's happening there.
"In the same way I have promised myself I will never about write about the miners. Because to me, they're a very special breed of people. And I'm not a miner from the mining family. I think you have to be, to know their way of thinking."
She added: "The worry for a writer, and I think about this, is when we're in the middle of a conflict, do people really want to read about it as well. Some people could read it and gain hope from it, that we came through - and we'll come through this. I have to leave that to the individual. But there's a great interest in the Second World War."
Wartime Friends starts in Skegness, in Lincolnshire, where she is originally from and tells the story of Carolyn Holmes and Beryl Morley, who join the Auxiliary Territorial Service (ATS), the women's branch of the British Army during the Second World War.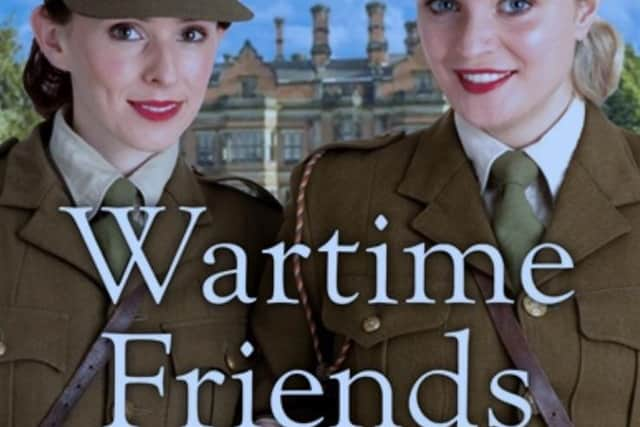 They are posted to Beaumanor Hall as 'listeners', the most difficult of signals intelligence gathering, intercepting enemy messages which are then sent to Bletchley Park for deciphering.
As the war unfolds and their work becomes even more vital, Carolyn and Beryl's friendship strengthens and, in the dangerous times that follow, they will both need the support of the other as they face personal troubles of their own and the lives of those they love are put at risk.
She said it takes a year to write and deliver each book. She's currently working on her landmark 30th novel for Pan MacMillan, under the working title of The Poachers Daughter.
Of Wartime Friends she said: "I wrote it during lockdown. Although it was awful not to see your family and friends, my daily life wasn't a lot different because I'm used to being in an office on my own writing.
"I'm not writing all that time. You write solidly, probably for four or five months. Then you've got to edit. And there's a lot of research to do and I do my research as thoroughly as I possibly can, because I like to get my background facts right. You have to be expert in the bit that you want to put in the book."
Margaret's commitment to research paid dividends writing Wartime Friends.
She recalls a visit to Beaumanor Hall, the real life stately home near Loughborough in Leicestershire, which actually was used by WWII 'listeners'.
"It's a lovely place, a beautiful house. You can still see the buildings in the in the field that they built for the the operators," she said.
"They camouflaged them as workmen's cottages and the cricket pavilion, so enemy aircraft overhead would see the buildings, but they wouldn't know what they were.
"One of the little stories I liked, that make it real, is how when ATF girls arrived they were told to be careful never to walk across the middle of the field if it snowed, because from the air their footprints could be seen. Incredible stories like that I think help to bring it to life."
Born in Gainsborough, Margaret moved to the coast at the age of seven and so began her love for the sea and the Lincolnshire landscape.
Her ambition to be a writer began early and she had her first novel published at the age of twenty-five. This was followed by many further titles including Plough the Furrow, Sow the Seed and Reap the Harvest, which make up her Fleethaven trilogy.
A Sunday Times top ten bestselling author, she also wrote The Buffer Girls and its sequel Daughters of Courage.
She would love to see her books hit the screen and especially a TV series of her trilogy works.
Margaret said: " I would love it. I would absolutely love it. But I don't lose any sleep over it, because out of all the wonderful books that have been written in our genre, there's not many that have been made into series.
"I think they would adapt better for the TV rather than, you know, a major film.
"I've got the first trilogy, which was Plough the Furrow, Sow the Seed and Reap the Harvest, I think that would make a very good series, because it covers the
First and Second World War. And the trilogy that I've more recently finished, which was The Poppy Girls. The Brooklands Girls, and The Spitfire Sisters. That's another trilogy that covers World War One and World War Two, on the generation through the families, you see.
"I think either of those would be really good, because there's so much there, they can sort of pick out what they wanted to."