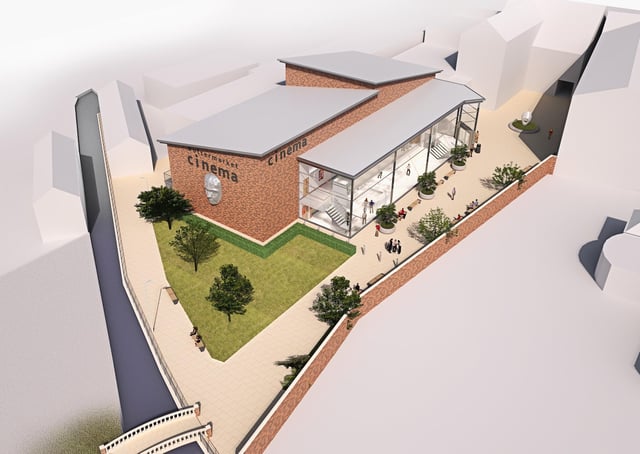 Delayed - Sleaford's cinema plans. EMN-200510-162332001
North Kesteven District Council has been seeking an operator for its three screen cinema plan for the town centre in the Buttermarket area behind the former Corn Exchange off the Market Place.
The leisure industry is having a tough time due to restrictions and audiences unwilling to visit currently, as well as postponement of big blockbusters such as the latest James Bond movie. This has this week seen conema chain Cineworld announce it was temporarily closing all its UK outlets and Odeon has said it will be only opening its cinemas at weekends.
NKDC is financing the creation of the new 300 seater cinema in town which would also include a food court and restaurant, a public open space and a bridge across the River Slea to link up with Money's Yard to create more pedestrian flow throughout the town centre. But in June council bosses said they would be putting the plan on hold until the autumn when they would review matters further in light of the effects of the pandemic.
Council Leader Richard Wright has now said this week that they will have to put things off until next year: "We are committed to achieving a redevelopment of the Buttermarket area at the Heart of Sleaford, and as we continue to review opportunities and work hard on the details and logistics in realising such a large and complex heritage scheme, our aspiration remains to bring forward a cinema.
"It's important to say however that due to the current climate this is now not as straightforward as envisaged in our plans last year.
"The wider situation is ever-changing and the pandemic continues to impact a wide range of industries, especially within the cultural, leisure and hospitality sectors. This is making it challenging to progress at the pace we'd hoped. "We are continually reviewing this situation and hope to bring an assessment of our options to the Council's Executive Board by the end of the year."