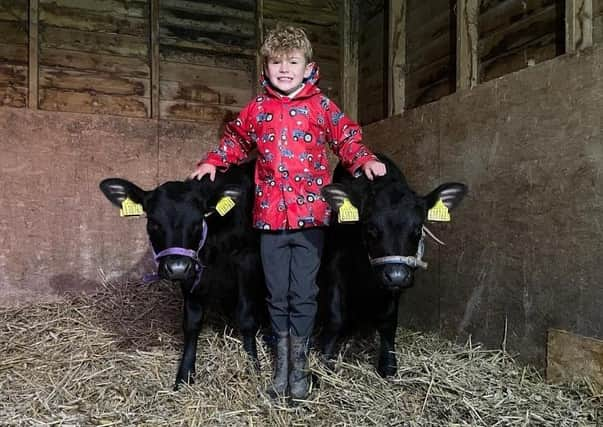 Joe Trofer-Cook took a starring role in Channel 5's Christmas on the Farm when it was broadcast on Christmas Eve.
The show was the seasonal version of This Week on the Farm and Friday on the Farm, both of which are filmed at Cannon Hall Farm, in Barnsley. The programmes are presented by Helen Skelton and Jules Hudson, and feature, among others, farming brothers Rob and Dave Nicholson.
Joe is said to be Britain's youngest farmer – during the first national lockdown, he started growing vegetables which he would sell from a wheelbarrow at the end of his garden; then, using the money he made, he bought chickens and after that sheep.
On Christmas on the Farm, he received a surprise visit from Rob and Dave, who delivered an early Christmas present to him after 'having a word with' Santa – a pair of calves.
Joe, who had written to the North Pole asking for a cow for Christmas, said 'oh my god' when he saw that his wish had come true.
"I love them," he told Rob and Dave.
Joe's mum Clare said: "Joe is autistic and working with the animals has really helped him."
On the broadcast, Joe said: "Every day I'm learning and I just love them so much from my heart. They're my best bit of my life ever, animals are."
Rob said: "Joe is inspirational; to do so much at such a young age, he's got a bright future as a farmer ahead of him."
Helen, meanwhile, declared him to be a 'little legend'.
You can watch it the episode on demand by searching for Friday on the Farm at www.my5.tv