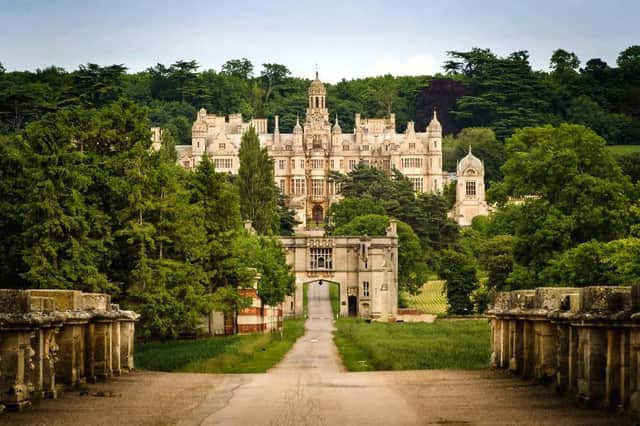 The manor, near Grantham, has announced the dates it will be open for visitors this year, beginning with a celebration of spring on Good Friday and Easter Saturday (April 7-8).
Normally closed to the public, the manor will be open for visitors for just 14 days this year as part of an ambitious calendar of events set to delight and excite.
On Good Friday and Easter Saturday, guests are invited to put a spring in their step and enjoy a charming selection of outdoor games, as well as a traditional Easter egg hunt to search for Gregory Goose's golden eggs.
Then, the manor's woodland will open for its famous Bluebell Walk in late April/early May (exact dates to be announced) before the manor and its gardens reopen for a big summer weekend in August (26th & 27th). Finally, building on the success of last year's festivities, Christmas returns to Harlaxton on the first ten days of December.
Events Manager at Harlaxton Manor, Bethan Price said: "With spectacular views, bright blooms and, of course, the manor's awe-inspiring sights decked out especially for Easter, we're inviting families and friends to enjoy a bank holiday weekend at Harlaxton Manor.
"The whole team is busy bunnies at the moment, decorating the manor and hiding a variety of Easter eggs to be uncovered by children and adults alike.
"After welcoming almost 10,000 visitors in 2022, we can't wait to welcome you all this Easter and at our dazzling events later in the year."
Visitors to Harlaxton's Easter events are welcome to bring a picnic hamper with them and enjoy a refreshing alfresco meal in the sprawling manor gardens, with stunning views across the Vale of Belvoir. There will also be a selection of Easter-themed refreshments available including a selection of sandwiches, hot and cold savoury and sweet snacks and drinks. Traditional ice cream will also be on sale in the formal gardens.
Live entertainment will be provided by a trained pianist and fantastic local choirs the Harrowby Singers and the Wassailers Male Voice Choir, providing a soothing and uplifting atmosphere for families as they take in the blooming bulbs of spring.
After Easter, Harlaxton Manor will also be opening its woodland this spring to allow visitors to walk through the manor's famous Bluebell Walk to see the brilliant blooms which grow there. Timed to coincide with when the flowers are at their most spectacular, this event will take place in late April or early May but exact dates are yet to be announced. Those interested are advised to check www.harlaxton.co.uk and follow Harlaxton Manor on social media to keep updated.
Making sure the manor's gardens are looking magnificent for visitors this Easter, Head Gardener at Harlaxton Manor, Andrew Potter said: "Spring is an especially beautiful time at Harlaxton Manor as we're lucky to enjoy a classic mixture of colourful and complementary flora that blooms with the changing season. From delicate snowdrops to bright daffodils that flower as early as January through to the fine-foliaged viburnums and vibrant yellow forsythias, the shifting spectrum of colour all culminates with the seasonal bluebell bloom, which transforms the floor of our thriving woodland into a dense sea of lilac and cobalt.
"It's a striking sight, especially with the blossom on the trees and the scent of spring in the air. While the timing can vary slightly depending on the seasons, we do hope you'll come and enjoy a calming stroll in our woodlands to take in the silent splendour of spring at Harlaxton Manor."
Constructed in 1831 by businessman Gregory Gregory, Harlaxton Manor is a 19th century historic house on the outskirts of Grantham. The manor combines gothic, Jacobethan and Baroque styles to create a spectacular impression that's truly unique.
The manor has been the UK campus of the University of Evansville, Indiana since 1971 and it welcomes hundreds of American students each semester to learn and study in an inspirational setting. The manor is also an awe-inspiring wedding venue and is available for private events and conferences.
This Easter, Harlaxton Manor and its Manor Gardens will be open on Friday April 7 and Saturday April 8 from 10am until 5pm (last entry at 4pm). Adult tickets are available for £15 while child entry is £8.50. A family ticket for two adults and up to three children is available for £40 and concessions are £10 per person. If you would like to visit for both days, double-day tickets are available for a discounted price.
The full list of dates that Harlaxton Manor will be open to the public this year are:
Easter Open House - April 7 & 8Bluebell Walk (dates TBC) - x3 Sundays in May are anticipated, weather permitting, please check the Harlaxton Manor website and social mediaSummer Open House - August 26 & 27Christmas Open House - December 1, 2, 3, 7, 8, 9 & 10.
To book tickets in advance, visit www.harlaxton.co.uk. A limited number of tickets will also be available on arrival at the manor's main entrance.