Get ready for Ladies Day at Horncastle's theatre!
Rehearsals are well underway for Horncastle's thespians' latest show – which promises to be a warm yet exuberant comedy.
'​Ladies Day', by Amanda Whittington, is coming to Horncastle Theatre Company's Lion Theatre next month, and the cast and crew are betting it'll be another spectacular show.
The warm comedy sees Pearl, Jan, Shelley, and Linda, who work together at Hull fish docks, swap their hairnets and filleting tools for fascinators and champagne as they head for a day out to Ladies Day at Royal Ascot in York after Linda manages to land tickets
Before long, secrets are being spilled and friendships are tested to the limit, but their accumulator bet keeps quietly winning – will the ladies hit the jackpot?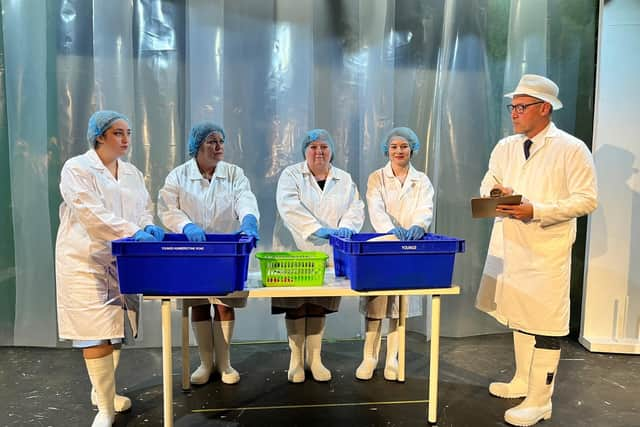 Ladies Day is directed by Sheena Liversidge, with a host of new and long-standing members of the theatre among the cast.
Sheena said that they received a huge response at auditions and readthroughs of the play, and that she had been "overwhelmed" by the support for the new production:
"Rehearsals have been going amazingly well so far, the cast have really gelled as a group and as workmates, especially the four leading ladies, and the effect they have on the gentleman has been good to see as well."
Behind the scenes, Sheena and her husband Chris visited York racecourse to take plenty of photos, with the blessing of the staff at the races, to help them create the set, which, without giving away too many secrets, will see a seamless transition between the fish markets of Hull to the glamour of York Racecourse
The cast and crew have also extended their thanks to Harborough Theatre in Market Harborough for their kindness lending the props from their performance of Ladies Day for their use.
But animal lovers in the audience need not worry as no real fish – or horses – will be used in the performances of Ladies Day.
Ladies Day opens at the Lion Theatre on Wednesday November 15, running until Saturday November 18.