​Gruffs at Gainsborough
A trip-trapping musical adventure is coming to Gainsborough to keep youngsters entertained this half term. ​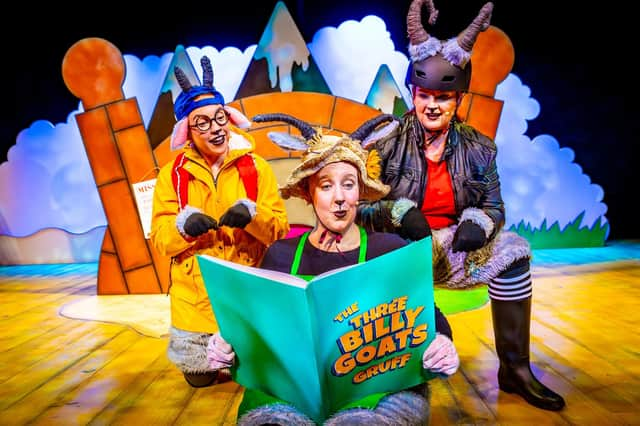 ​Lost The Plot Theatrical will be taking to the Trinity Arts Centre with their interactive, family fun show The Three Billy Goats Gruff.
The ensemble cast narrate the story throughout as Big, Middle and Baby Billy Goat. Each goat takes turns playing the role of Terry the Troll in this new children's musical, with original book, music and lyrics by Richard Brindley and Edward Johnson, and musical orchestrations and arrangements by Tom White.
On a grassy hill, in the middle of the countryside, there lived Three Billy Goats Gruff.
They never stopped eating and before long they had gobbled everything they could get their hooves on.
The only option is to go looking for more food.
Hold on to your horns and journey with Big, Middle, and Baby Billy Goat on their wild adventure as they bravely cross the rickety bridge to greener pastures.
But who will they meet along the way as they trip trap over the bridge?
The show is a new take on the traditional tale for children of today and is ideal for first-time theatre goers, featuring catchy songs, funky dances to clap along to and a rapping Troll.
The Three Billy Goats Gruff will be at The Trinity Arts Centre on Monday October 23, with the show starting at 2pm.
For tickets call 01472 676655 or visit trinityarts.co.uk/whats-on .