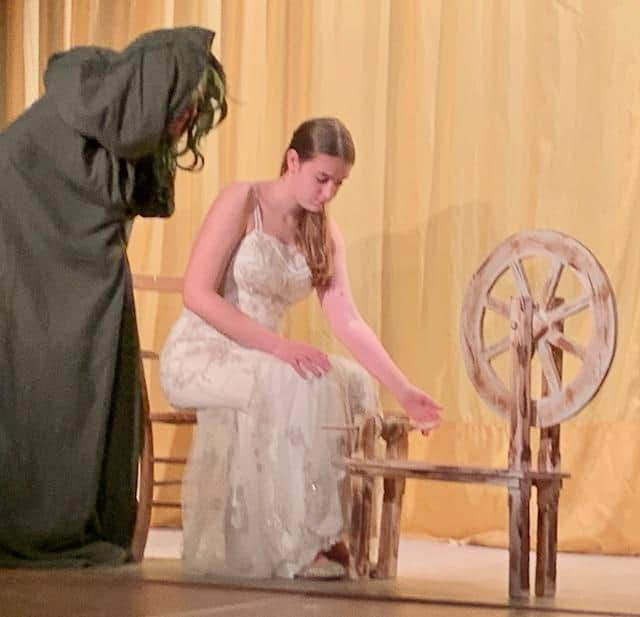 The village drama group's panto begins with a huge royal celebration, explains Susan Edwards from the Players, made up of local amateur thespians from the area.
"The king and Queen of Muddleby on Marsh are finally blessed with a baby daughter."The royal pages, Fetch and Carry, fail to deliver all the invitations for the princess' christening, upsetting Bad Witch Hazel and her evil sidekick, Egor. In retaliation they bestow an evil curse on the princess, their spell set to kill her before she reaches her 16th birthday."Can Good Fairy Lilac and her motley crew of trainee fairies stop the curse in its tracks?Leadenham Players invite you to bring the whole family along to cheer on good over evil, while enjoying the madness and mayhem of twists and toe-tapping tunes on a wild journey through the next 116 years.Susan says: "Come and meet our colourful cast! Watch out for the dame, who is not only the local school mistress, but royal nursemaid extraordinaire! Boo Witch Hazel and Egor, cheer Fairy Lilac and her crew!"
If you want to find out how this modern twist on a fairytale classic will end, go along to Leadenham Village Hall and bring your friends too.
The shows will be on Friday, January 27, at 7pm, Saturday, January 28, at 2pm and 7pm, Friday, February 3, at 7pm and Saturday, February 4, at 2pm and 7pm. However, the first matinee performance on January 28 is already a sell out.Tickets are available by calling 07464 301120 or through the website www.leadenhamplayers.co.uk priced at £8 for adults and £5 for children and concessions. A family of four ticket is £24, a family of five ticket is £28.
- There is also still a chance to see Heckington Players' pantomime, Jack and the Beanstalk, at Heckington Village Hall on January 27 to 29.
Tickets for the show by this popular group of local amateur players are priced at £10 for adults and £6 for children.
Go to www.heckingtonplayers.co.uk or call 0333 666 3366 (additional processing and postage charge of £1.75 for using this telephone service).