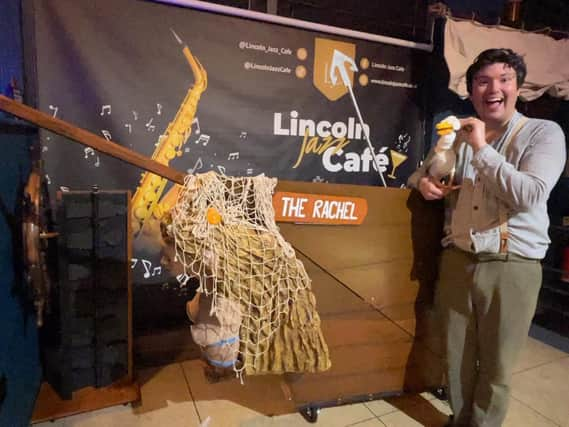 Maybe Dick is Hambledon Production's new parody of Herman Melville's Moby Dick, and is coming to Louth next month – and is NOT to be missed if you need a good laugh!
Performing an intimate showing at the quaint Lincoln Jazz Club, audiences were shown what they could expect within the opening seconds of the show with main man John Hewer, as Ishmail the narrator, showing us a portrait of his girlfriend back home playing with her "hair" – or is it hare, the kind with four legs and long ears? – which had the audience chuckling right away.
John plays more than eight different characters himself, including Captain Ahab who bore more than a passing resemblance to Abraham Lincoln, Starbuck who would bring the captain a wide variety of coffee in the morning, and Elijah the ship's oddball, and his incredible range saw him transform so seamlessly into the characters with such a huge variety of flawless accents, it made one wonder if he suffers from multiple personalities.
A special shout-out has to go to his seagull companion, the aptly named Steven Seagull, who also more than played his part, and Captain Ahab's monologue about why it's so important to him that he catches 'Dick' with brilliantly blue double-entendres – which are too naughty for this review – absolutely brought the house down.
The show involved a simple set with a bow of a ship very effectively, which is a veritable Mary Poppins-style carpet bag of tricks, with brilliantly times sound effects, but more elaborate sets aren't needed as John's performance is so enthralling he makes you feel as though you are there on the ship with him.
Throw in a whaling-inspired reimagining of Summer Nights from Grease, a few Jaws references, and a familiar-sounding carpenter, and you've got a simply hilarious show that isn't to be missed.