REVIEW: tick...tick...Boom! sizzles and explodes onstage
​tick...tick...Boom! This latest show at Louth's Riverhead Theatre is ready to blow up the stage and it's not one to be missed.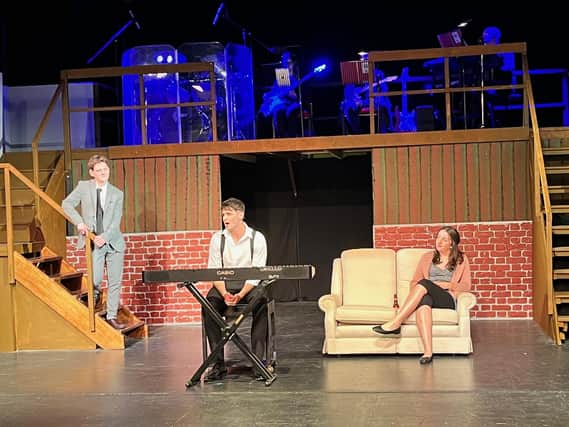 "Tick. Tick..Boom!" is the semi-autobiographical musical written by the late Jonathan Larson (Scott Royle), composer and lyricist for the legendary Broadway musical Rent and sees our hero facing a career crisis.
Through his fractious relationship with girlfriend Susan (Georgia Scott) and his often turbulent interactions with his childhood friend Mike (Harry Giles), we see Jon gradually begin to be consumed with self-doubt and inner-turmoil as the noise and power of the tick..tick...BOOM! consume his mind.
Will he successfully get his new musical "Superbia" onto the stage?
The three leads are stars, there's no two ways about it. It takes a rare talent to hold an audience in the palm of your hand, to the extent that you can't take your eyes off them, but Louth-born professional actor Scott (performing back in his home town for the first time in ten years) as John is so captivating, and boasting an incredible singing voice, he had me believing in Jonathan's story from the first note.
Georgia has a powerhouse voice to match Scott's and her chemistry with her on-stage lover sizzled and you can see how much she wants to believe that Jonathan will succeed, but doesn't want to give up her own dreams of a home and a family.
Meanwhile, Harry's turn as Mike, who is seemingly living the life of Riley after giving up his own acting aspirations to take on a corporate job and able to buy his own place and fancy car, is equally wonderful and his energy and passion on stage is clear to see.
The talented cast handle 11 roles between them, but they seamlessly transform into bit parts to make up the ensemble, including John's parents, Mike's colleague, John's fellow cast member, and his agent Rose (who sounds oddly similar to Joey's craggy agent Estelle in 'Friends'.
Special praise also must go to the live band who performed the many songs so well, and while the stage and scenery were minimalistic, you didn't need a huge set – a simple chair and table wheeled onto the stage told the story perfectly.
Director Jamie Harris has done a simply brilliant job here, the cast were polished to perfection and never missed a note or line. Quite simply, I'd urge anyone and everyone to go and watch this show of Broadway quality for just £12 for adults (£10.50 for theatre card holders) and £6 for under 18s.
Tick..tick..Boom! is opening at the Riverhead tomorrow (Wednesday) to Saturday (November 11).
To book tickets, visit https://louthriverheadtheatre.com/