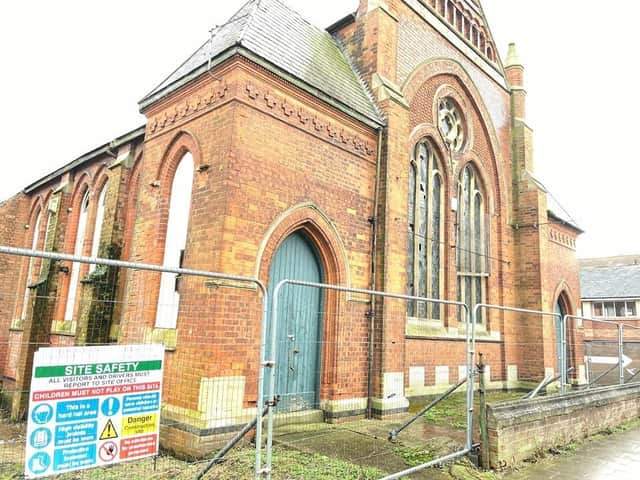 Alex Holdsworth has been granted planning permission for change of use, conversion of and alterations to the former Methodist Chapel to provide 12 flats along with 12 parking spaces.
The plans for 44 Roman Bank - next to the derelict yard which has been given permission to become the town's first community centre and mosque - were approved by East Lindsey District Council in spite of more than 40 objections, mainly concerns about parking.
One objection letter signed by several neighbours expressed concern about the access road.
It stated: "I object to proposed parking area being accessed via the unadopted road which runs down the side of the property.
"The access road, which is unadopted and made up od mainly builder's rubbleand potholes, is used already for access to 21 properties along the back of Lumley Crescent and Scarborough Avcenue.
"Should the plans go through then with the proposed parking to the rear plus the proposed parking for the community centre will mean there are up to 40 vehicles turning into and out of the access road from Roman Bank.
"The state of the road will deteriorate rapidly and is a cause of concern for local residents."
However, the application stated to facilitate the parking numbers, the proposal includes the demolition of some of the smaller scale buildings at the rear of the site. :
It stated: "The former Methodist Chapel is located on Roman Bank in Skegness, which appears to have a mix of commercial and residential uses locally.
"It is an important historic building in the street scene and its retention is the aim.
"Historically the building has been used for furniture sales, however, more recently the building has fallen into disrepair and is potentially becoming a location where rough sleeping and anti-social behaviour is occurring.
"The proposed design solution looks to work with the existing structure. Existing openings into the building have been utilised to provide access to the flats and the existing windows have been used to provide light and ventilation to the flats.
"To facilitate the parking numbers, the proposal includes the demolition of some of the smaller scale buildings at the rear of the site.
"The proposals are well considered and react well to the constraints of the site. The conversion of the former Methodist Chapel will ensure that this important and historic building is maintained in the street scene, positively enhancing the street scene and its immediate surroundings.
Skegness Town Council supported the application, subject to planning conditions being imposed, including the unadopted access road to the property being made fit for purpose by the developer.
Among the neighbours supporting the plan, one said: "I feel it will be a marked improvement and will bring much in the area.
"The building is going to ruin and the plans see the facade be historical value of the church, as it stands it is a dangerous eyesore"