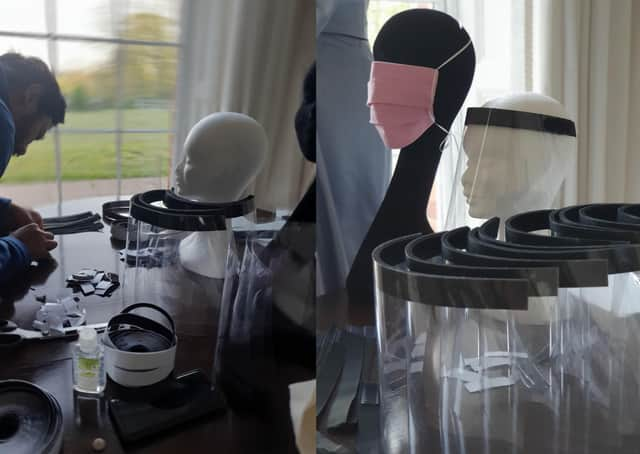 Sanyukta, from Hagworthingham, near Horncastle, has won more awards than Ant and Dec!
However, Sanyukta is now contributing her skills to support the NHS - as well as vulnerable communities in her home country, Nepal.
Sanyukta admits she has been inspired by the selfless dedication of the brave NHS - and other key workers - fighting the Covid-19 pandemic in the UK.
So, putting fashion to the service of the greater good, she has teamed up with seamstresses across England to make much needed masks and PPE visors.
Sanyukta said: "The shortage of PPE has hit the UK.
"A visor is one of the most essential pieces of protective equipment for frontline medical staff, and crucially important for the NHS during their shifts.
"We just had to step forward to use our craft skills to make this most needed equipment available."
Alongside PPE visors, the team is making masks for key workers from three layers of 100 per cent breathable cotton fabrics, including, in some, the option to add an extra layer of filter protection, nose grip and detachable eye protection.
Sanyukta added: "By staying home, we are saving lives.
"As civilians, we are doing our parts diligently, but we felt strongly that we need to use our skills to support our doctors, nurses, medical staff and key workers who are risking their lives to protect our lives - and the lives of millions all over the country.
"It has not been easy sourcing material during this lockdown, however, along with our team, we have tried our best to take our own initiative to give back to these brave warriors by using our skills and resources."
The ethical designer's team in Nepal is also working on the 'Nepal Covid-19 project', with nearly 1,000 masks already made while staying at home, following strict hygiene social distancing rules during lockdown.
The team's efforts have already brought smiles to the vulnerable communities, providing special masks and essential food supplies.
Sanyukta explained: "We have helped 'Aamako Ghar' which has sheltered homeless elderly women and orphans in Kathmandu since 1999.
"By protecting the most vulnerable communities, we could help to protect the frontline doctors and nurses and minimise the possible collapse of the country's health centres and hospitals.
"So, our main focus in Nepal is the most vulnerable communities first, starting from the care centres for homeless elderly people."
Sanyukta admits the work for people in Nepal - and our own NHS - is keeping her busy.
She said: "We are all in this unprecedented, difficult time together now and we strongly believe in the power of kindness and positive spirit.
"Caring for the planet has always been the DNA of our brand. We feel that once we are over Covid-19, we will be closer to each other than ever before."
Apart from all the voluntary PPE work in the UK and Nepal, Sanyukta's award-winning ethical business has also joined the national scheme with the Blue Light Card and Defence Discount Cards to treat all key workers.
Sanyukta explained her 'Special Key-Worker bridal package' will offer a free appointment service, 25 per cent off for wedding gowns and a £200 gift voucher towards veil on any new orders.
Pictured (above, right) are two NHS employees - Charlotte and Jack - who Sanyukta worked with before the Covid-19 crisis.
She said: "NHS, emergency services and all key workers are even more stretched than usual.
"They are selflessly and tirelessly working to keep us safe, healthy, and supported.
"It (the Blue Light Card) is a small way to give something positive back to these brave workers.
"It's our way of saying 'thank you' for their dedication in what is a difficult time for all of us.
"It (Charlotte's dress) is a promise to all of our new brides that it takes both rain and sunshine to make a rainbow. This storm will pass and then the rainbow will emerge."
If you are able to donate towards making PPE, click here