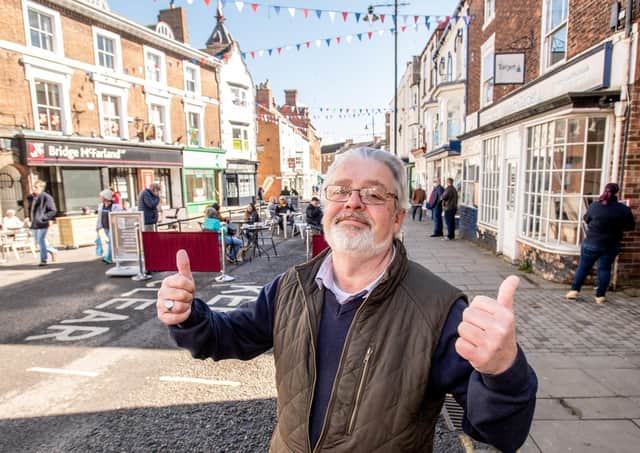 The scheme - which will see the Cornmarket closed to traffic for up to four days a week - launched on Monday as some of the national lockdown restrictions were finally eased, allowing many businesses to reopen.
Outdoor seating in the Cornmarket proved popular, with businesses taking part reporting a massive uptake in bookings.
The pioneering project was led by the town's Independent Traders group, and chairman Gary Denniss said: "This is absolutely fantastic for Louth and it really seems to have taken off.
"It's great to see so many people enjoying themselves.
"I can only thank Lincolnshire County Council and East Lindsey District Council for supporting us.
"I can see more and more businesses getting involved.
"This is just what Louth needed and we've had no negative comments - just 100 per cent positive support from everyone.
"Hopefully, this marks the start of a new and exciting era for the town and couldn't be better timed after the difficulties we've all faced in the last 12 months."
The Masons Arms was one of the first businesses to sign up, and joint manager Lewis Phillips said the opening day could not have gone better.
He told the Leader: "We didn't really know what to expect and when we woke up and saw it had been snowing we wondered what the response would be.
"But the sun is shining and everyone is enjoying themselves.
"There's a great atmosphere and hopefully this really will put Louth on the map. It's great for the town.
"We've been really busy and we've bookings for the rest of the week and into next week.
"In fact, we're fully booked at the weekend. Brilliant!
"If it hadn't been for this we probably wouldn't have opened, because we've only another very small outdoor area."
Customers included Lindi Holbrooke, Valerie Hamant and Caroline Carter.
Mrs Holbrooke said: "The last holiday I had was in Venice and while sitting out in the Cornmarket isn't quite like St Mark's Square, it still feels wonderful!
"I think this will really take off. I've already booked a table for next week.
"I know some people are upset because of the loss of parking but this idea has to be good for Louth."