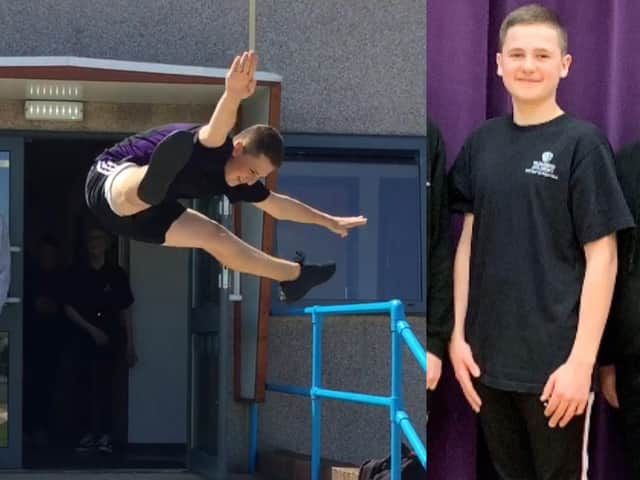 Year 11 pupil, Macauley Howitt, was awarded the scholarship to attend the prestigious Midlands Academy of Dance and Drama (MADD) in Nottingham.
Macauley, known affectionately as 'Maca', started dancing at age five and continued to pursue his love of boys' freestyle, modern jazz, ballet and musical theatre, before taking up dance and drama at Skegness Academy, sponsored by Greenwood Academies Trust.
He thrived at the Academy and participated in everything from dance and variety shows to pantos and school productions, taking part in 15 shows during his time at the school as well as regularly performing at assemblies and sports days.
While at Skegness Academy, Maca has also taken on a leadership role within the community, helping to teach dance to local primary school children as part of an annual day-long event.
After auditioning for MADD earlier this year, Maca received the news that not only was he selected to undertake a three-year professional diploma in musical theatre, he was also the recipient of a scholarship worth 75 per cent of the tuition fees.
Maca had planned to use the summer to work at a local show bar and raise funds to cover the remaining 25 per cent of his tuition, but the COVID-19 lockdown made this impossible. Determined to find a way, Maca launched a crowdfunding campaign, and now, with the help of the Trust, Maca has secured the remaining funds needed to start his course at MADD in September.
Commenting on his achievement, he said: "I have loved the performing arts since I was a child so it is a lifelong dream to attend MADD, and I am incredibly grateful to the College and Trust for helping make this possible.
"One day I hope to travel the world as a cruise ship entertainer, and I now have the opportunity to make that happen."
Jade Wattam, teacher at Skegness Academy, said: "I am very proud of Maca's achievement and it has been a great privilege, not only as his teacher at Skegness Academy, but also as one of his first dance teachers, to watch him pursue his goals with such hard work and commitment.
"As an Academy we are dedicated to removing barriers to success and ensuring our pupils can fulfil their potential so we are delighted by this opportunity and wish Maca the very best for his future endeavours."