Asda Boston staff celebrate long-service awards for 13 of its employees
​It's a case of lucky number 13 for Boston's Asda store as 13 members of staff celebrate racking up a whopping 390 years of collective service to the supermarket.
The female employees have been honoured at the supermarket chain's regional Big Asda Celebration event recently.
The event, held in Nottingham, recognised staff across the East Midlands who celebrate 25, 30, 35, 40 and 45 years of service with the organisation this year.
The long-serving employees, who enjoyed a two course meal, a celebration presentation and goody bag followed by dancing, will also receive an additional one week holiday leave, and retain their staff discount card for life. Colleagues celebrating 25 years' service also received £100, while those with 35 years received £150.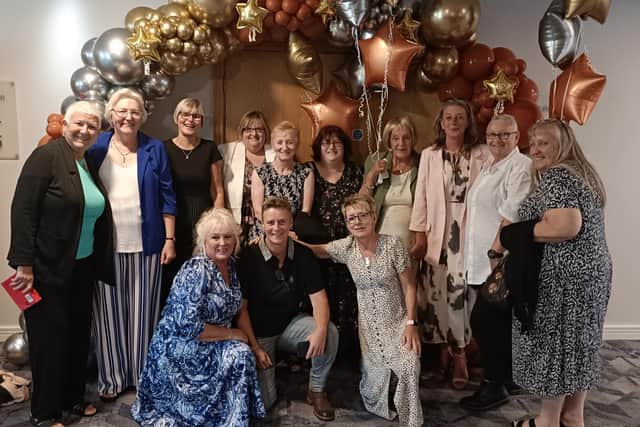 Adele Bayfield-Knight, general store manager at the Lister Way supermarket, said: "The Big Asda Celebration event is our way of saying thank you to these employees for looking after our customers over the years.
"The collective total of 390 years of long service is outstanding – we pride ourselves on giving top-rate service to our customers and this would not be possible without the hard work and dedication from all of our colleagues."
Lorna Reeson, who now works on the checkout department, added: "When I started all those years ago, I never thought that I'd be one of the longest serving members of staff. I absolutely love it here, although a lot has changed over the last 25 years, I'm proud to say that the fantastic support and atmosphere here at Asda has remained throughout. I have made some life-long friends and watched children grow and have families of their own, who still shop in our store."
Representing the Boston supermarket at the event with 35 years' service each were Ann Hubbard (checkouts), Sue Mableson (shopfloor), and Delena Trowbridge (cash office). The colleagues in attendance with 30 years' service were Bridget Pickworth (checkouts), Heather Blackamore (checkouts), Sharon Enderby (counters), Sonia Harriss (checkouts) and Sandra Mitchell (checkouts). The remaining workers who had each completed 25 years' service were Lorna Reeson (checkouts), Ruth Bell (cash office), and finally Sheila Harker, 35 years (checkouts), Mags Sumner (checkouts) and Sue Jackson (checkouts) 25 years each, who didn't attend but were recognised at the event.
The occasion also included the 'Proud to be Asda Awards', an annual recognition of workers who go the extra mile every day to make a difference to customers, communities and each other. This year, two colleagues from the Boston store were nominated for awards in the East Midlands.
Stephen Bromby, the Lister Way supermarket's community champion, who started with the company in 1996, in the 'Retail Colleague Of The Year' category and Julie Cobb, food hall section leader who joined Asda in 2001, in the 'Leader Of The Year' category.
Store manager, Adele Bayfield-Knight, added: "We are so proud of Julie and the amazing work she does – she's truly an all-round team player, an asset to the store and we're delighted for her. She's always looking out for us. Stephen works tirelessly to support charities, projects and initiatives that make a real impact for local people, as well as expertly supporting departments across our store."