Bar Unico set to mark ten year anniversary on Friday
​One of Horncastle's popular coffee bars is celebrating a landmark birthday this weekend.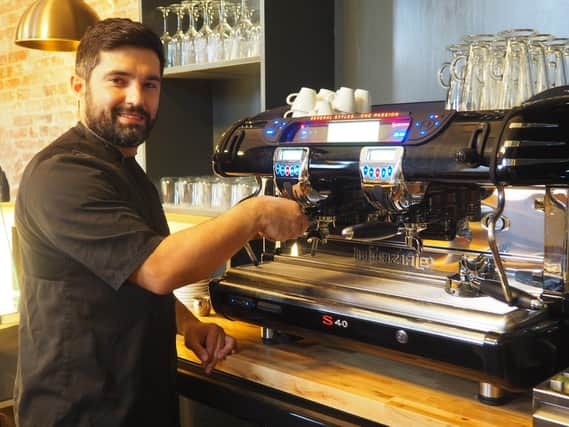 Located on Church Lane, Bar Unico is celebrating ten years in business on Friday (November 3) with a party at its Horncastle bar.
Owner Giovanni Carchedi, 39, set up the first Bar Unico in Lincoln's St Benedict's Square in October 2013, and the second one in Church Lane in Horncastle followed in October 2021.
Bar Unico is famed for offering a genuine Italian coffee bar experience and serves homemade pizza al taglio, fresh pastries, aperitivi, focaccias and homemade cakes, as well as real Italian gelato, selected beers, wines, spirits and Italian-style cocktails.
Gio said that opening their first premises was a case of "right place, right time":
"Opening the first bar was a dream come true and then finding such an incredible location for the second one was an amazing stroke of luck!
"Although we've only been in Horncastle for two years, we decided to host the anniversary celebration there as it's the larger of the two venues and regularly holds private parties and popular evening events such as our Italian tapas and monthly pizza nights.
"We also spent a lot refurbishing the building – which dates back to 1778 – into a stylish and welcoming coffee bar so it's nice to be able to show it off and celebrate what we've achieved over the past ten years.
"We have built up a loyal customer base in Lincoln and in Horncastle and we want to thank everyone for their support.
"After all, our staff, customers and suppliers help to make Bar Unico what it is, and I am privileged to say that a lot of our customers are now friends."
The anniversary party will be held from 7pm till 11pm on Friday, with jazz singer Penny Shipley set to perform. The event is currently sold out, but there is a waiting list in case of cancellations.
Tickets cost £15 and include a selection of Italian canapés and a complementary glass of prosecco on arrival.
To get your name on the waiting list, or enquire about other events, call the Bar Unico team on 01507 525 333 or email [email protected]