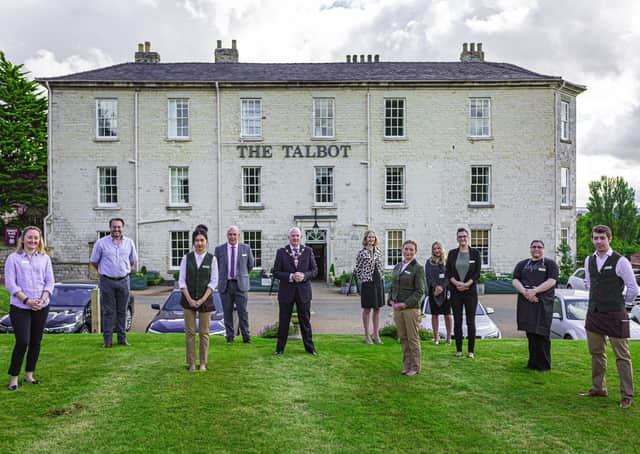 The Coaching Inn Group has now acquired The Bell Inn Hotel, Eatery and Coffee House, in Stilton, near Peterborough, and The Rutland Arms Hotel, in Bakewell, Derbyshire, and has also just leased The Talbot Hotel, in Malton, North Yorkshire.
Chief executive officer Kevin Charity said the new acquisitions represented an investment of about £2 million for the group, which now operates 18 hotels and inns in market towns across the country, including the White Hart Hotel, in Boston.
"We have invested over £1 million alone in completely renovating, upgrading and transforming the 17th century Rutland Arms, in Bakewell, in line with our ethos of breathing new life into historic old coaching inns," he said.
The Mayor of Bakewell, Coun Paul Morgans, who was invited to cut a ribbon to officially re-open the hotel said: "It's wonderful that this iconic building in the very heart of our town has been so sensitively and imaginatively restored and is now all set to go on serving our community for many years to come."
The Bell Inn Hotel, a former 16th century coaching inn, meanwhile, has undergone a bedroom refurbishment since its acquisition by the Coaching Inn Group.
At the Talbot Hotel, the situation is slightly different; there, the 17th century building is being managed by the group on behalf of the Fitzwilliam Malton Estate.
Mr Charity said the leasing rather than the acquisition of the property was a new departure for the group but the hotel had been refurbished last year and its involvement had saved about 40 jobs.
The Mayor of Malton Coun Paul Emberley said: "The Talbot and the town are synonymous so we are absolutely delighted that it has been taken over by The Coaching Inn Group."
The Bell was acquired in December last year followed by The Rutland Arms in February and, despite the coronavirus outbreak, the group felt sufficiently robust to go ahead with the leasing of The Talbot this August.