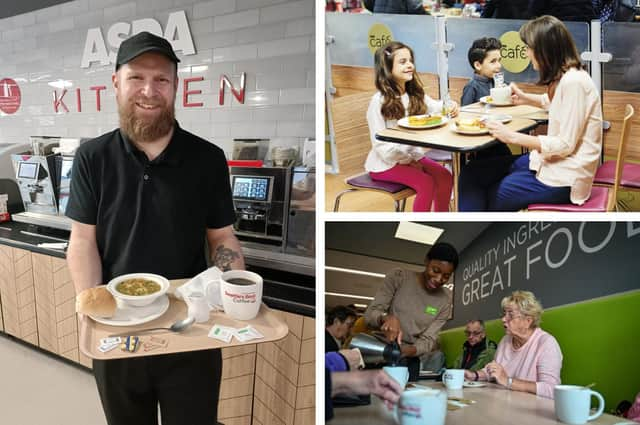 The Kids Eat for £1 and Winter Warmers deals at Asda, in Lister Way, will now run until the end of March.
The former offers children under 16 the chance to enjoy a hot meal in the shop's café for £1, with no minimum adult spend; while the latter means anyone aged over 60 can have a hot soup, a bread roll, and unlimited tea and coffee for the same spend.
Adele Bayfield-Knight, Asda Boston's general store manager, said: "We know that as families head into the new year, the pressures on household budgets will continue – but we remain as committed as ever to supporting our customers tackle tough times."
Alongside these extensions, Asda will be extending its 10 per cent discount for emergency workers – which includes food and drink, George at Asda clothing and homeware, toys and gifts – to at least the end of March through its partnership with Blue Light Card.
Blue Light Card is a nationally recognised scheme which provides workers in the NHS, emergency services, social care sector and the armed forces with a range of discounts.
There will also an extension to the chain's Community Cuppa campaign, which provides space in its cafés for community groups to meet, helping them to stay in operation amid higher energy costs.
The campaign will now run until Easter. Spaces will be available on weekdays from 2-6pm to groups that wish to pre-book.
All community group members who visit will receive a free tea or coffee.​​​​​​​​​​​​​​​​​​​​​​​​​​​​​​​​​​​​​​​​​​​​​​​​​​​​​​​​​​​​​​​​​​​​​​​​​​​​​​​​​​​​​​​​​​​​​​​​​​​​​​​​​​​​​​​​​​​​​​​​​​​​​​​​​​​​​​​​​​​​​​​​​​​​​​​​​​​​​​​​​​​​​​​​​​​​​​​​​​​​​​​​​​​​​​​​​​​​​​​​​​​​​​​​​​​​​​​​​​​​​​​​​​​​​​​​​​​​​​​​​​​​​​​​​​​​​​​​​​​​​​​​​​​​​​​​​​​​​​​​​​​​​​​​​​​​​​​​​​​​​​​​​​​​​​​​​​​​​​​​​​​​​​​​​​​​​​​​​​​​​​​​​​​​​​​​​​​​​​​​​​​​