BREAKING: Owners of Eve & Ranshaw, one of the UK's oldest family-run department stores, confirm closure
One of the UK's oldest family-run department stores which has been in business since the 1700s has confirmed today (Wednesday) that it will be closing in March .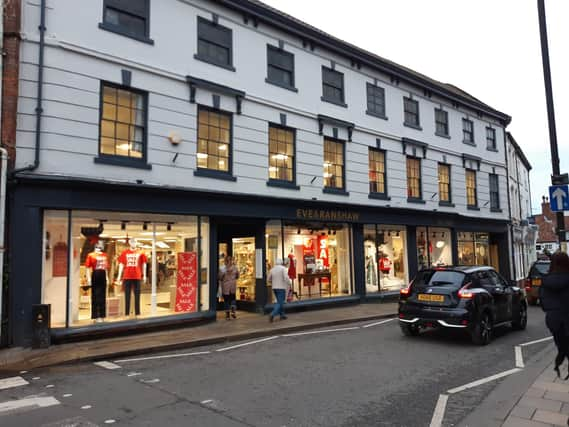 The Sandwith family, who own Eve & Ranshaw Ltd. has confirmed that the store will close its doors for good on Saturday March 4 after struggling since the Covid-19 lockdowns.
The well-respected shop, which is still trading in the original building in the heart of the market town, has steadfastly served the local community through generations and was established in 1781 by Adam Eve.
He later bought The Louth Carpet & Woollen Factory Ltd., helping the town become one of only three centres in England making flat weave and reversible carpets.
The shop expanded over the years under several owner partnerships, including that of Thomas Ranshaw who started as a 13-year old apprentice in the shop, to include high-class tailoring and fashion, and a wide range of home furnishing products and services.Christopher Sandwith and his son, David, purchased the store in 1977 and David's son, Marcus, took the helm earlier this year as the third-generation owner of the shop.
The store has had some challenging years with changes in customer shopping habits, lockdown closures, rising business costs and the current cost of living crisis, and Marcus said it has now reached a point where the department store is no longer viable:
"It is with a heavy heart that we have to close," he said, "We hoped for a long time that we could recover from the difficult Covid years and continue to modernise and trade, however, as with a lot of department stores in particular, the market is very tough.
"I am particularly sad about having to let our loyal team go, some of whom have served the company for decades, and have been so committed through these difficult times. I can't thank them enough."
The building remains a significant landmark in the town centre and has generated interest from various operators.
Marcus added: "We are currently in advanced discussions with a community focused hospitality operator, and we are looking forward to being able to share further details when this has progressed".
Eve & Ranshaw will be running a sale until its closure.
The online shop will close on January 30, 2023.