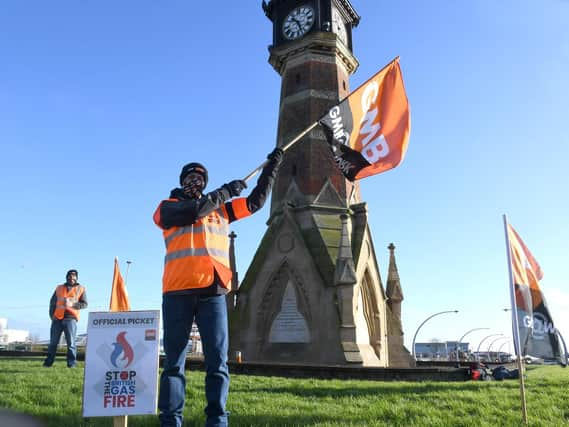 On day nine of their strike, six GMB Union members - the legal limit allowed due to Covid-19 restrictions - gathered at the Clock Tower in Slegness to raise awareness of their strike.
The engineers - including one from Skegness and others from Mablethorpe, Louth and Wainfleet - were part of a national dispute, with other protests taking place including one in Lincoln.
They plan similar protests around the East Lindsey area on Fridays to Mondays until the end of March, which is expected to cause disruption to customers.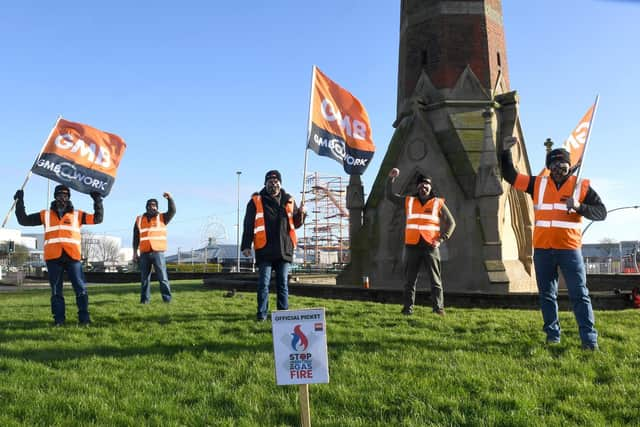 Employees of the firm who have gone on strike across the country say they are being threatened with 'Fire and Rehire' and are protesting against what they describe as 'disgusting new terms and conditions being proposed by British Gas', which is part of the Centrica Group.
Adam Thein, of Mablethorpe, was among the protestors in Skegness and said the dispute began in June last year, when British Gas first issued 'the threat of Fire and Retire'.
He said employees had been given until the end of March to sign contracts and agree new terms and conditions, including an increase of the working week from 37 to 40 hours, 'for no extra pay'.
"We have been asked to accept new, unfavourable terms and conditions or be fired on March 31," said Adam.
"This is from a company that had pre tax operating profit of £901million last year.
"If we don't accept the new terms and conditions, we will be fired and not get any redundancy.
"Throughout the pandemic, our engineers have continued working and, in many cases, visited Covid positive houses to ensure our customers have heat and hotwater.
"The new terms and conditions include working an extra 156 hours minimum for no extra pay, less holidays per year and a rolling six-week rosta which will have an affect on family time.
"It will also include a new bonus scheme with unrealistic targets that will encourage us to spend less time in customer's home fixing there problems which will undoubted have safety implications.
"Also if we are not performing to targets, we will effectively owe them hours to get back in the 'green' which will not be paid for."
Phil, of Louth, said the new terms and conditions would particularly affect the 7,000 engineers in the company, which employees 20,000 people.
"For most employees the new contacts won't make too much difference," he said. "We are not just protesting on behalf of the engineers who will be affected, we are doing this for everyone before other companies try and bring in Fire or Rehire, which is immoral.
"It's for our children's jobs."
Paul Martin of Skegness said he had worked for the company for 22 years.
"The new terms and conditions are disgusting and I have no intention on signing the new contracts," he said.
"Customers are suffering now, some are crying on the phone trying to get an engineer to go out to them.
"Unfortunately, if we don't fight this, we will lose it all."
British Gas told the Standard the company needed to be more competitive as it had lost two million energy customers, one million services customers and over half its earnings over the past `10 years.
"Our business needs to change to survive and protect 20,000 jobs," a statement read.
"We know change is difficult but we have offered a fair deal that has been negotiated over 300 hours with unions – where base pay and pensions are protected. 83% of our employees have already agreed to the new terms.''
The company also pointed out these were 'well paid jobs' of between £40-50k.
"We are not changing base pay or pensions. Our pay will still be higher than our competitors and working week will still be lower," it said
"The GMB keep saying they will not be paid for the extra hours – this is not true. As part of the deal an engineer who achieves his customer targets will earn at least 7.5% more than he currently does.
"The targets are based on the customer experience and the number of jobs completed each day, and are very similar to today's targets in terms of job times so we expect the vast majority of engineers will achieve these.
"Many of our engineers already work 40 hours and as part of the deal the ones who are due an increase in hours will retain their generous 28 days holiday – and so will receive 36 holidays in total including bank holidays.
"Engineers will be able to put working preferences and times into their app in advance and this will be taken into account before scheduling work.
"The business accepts that work life balance is incredibly important and will only roster unsocial hours to meet customer demand and we'll continue to share rosters with engineers six weeks ahead of appointments.
"Since July we held 300 hours of negotiation – and reached agreement with our other unions (Unison and Unite). All parties were aware when negotiations ended nobody 'left' the negotiating table.
"Unfortunately, the GMB – although initially indicating they would neutrally put the offer to their members - did a U-turn at the last minute to recommend members reject the same proposals that they helped to shape. We are concerned about some misinformation that has been shared with GMB members about the deal."
"83% of our employees have now agreed to new contracts – we believe the vast majority of our workforce understand that the company needs to change."