'Building a brighter and more inclusive future' - Lincolnshire haulage firm lends support to Under 10s girls team
A family-run Lincolnshire haulage firm has formed a partnership with one of the county's youth football teams.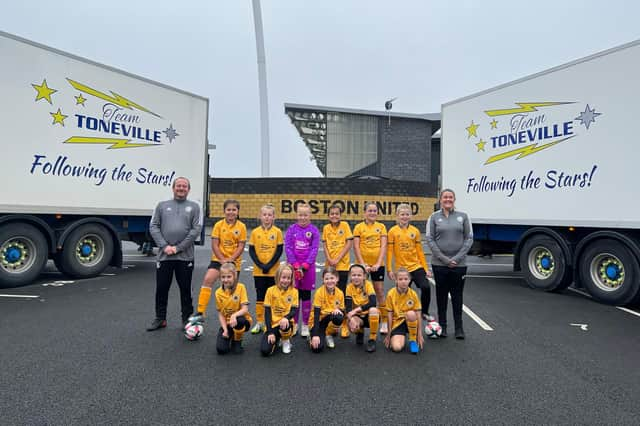 Team Toneville, of Brothertoft, is now sponsoring the Boston United Community Football Club's (BUFC) Under 10s girls team.
The business recently paid the team a visit to check out their new kits – and brought along two of its lorries for the occasion.
Part of Team Toneville's work involves supporting sports at the grassroots level, a spokesman for the business said.
"Team Toneville moves goods and equipment around the UK, encouraging inclusivity, empowerment, and equality within the world of sports.
"In a world where sports can provide a path to self-confidence, teamwork, and leadership, Team Toneville's support offers these young players an opportunity to dream big and work hard. It instils in them the belief that they can be the future lionesses of the football world.
"The next time you see a Team Toneville truck on the road, remember that they are more than just 'truckers', they are a driving force behind local social values and promote the future of young, local rising stars. The partnership between Team Toneville and BUFC is not just about sponsorship; it's about building a brighter and more inclusive future for our community and our future lionesses!"