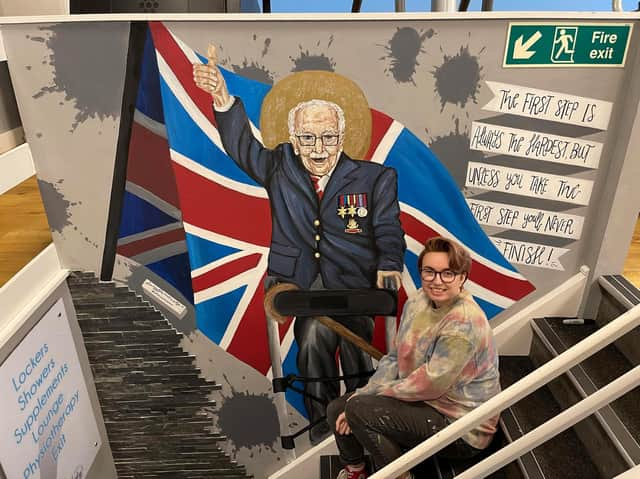 Lucy with the mural that she painted to inspire members of the Elite Fit Gym.
Lucy Hardisty, who runs Little Luce Designs with her friend Sarah Budby, freehanded the mural for Elite Fit Gym, which like others can welcome back customers on April 12.
The 21-year-old spent about 20 hours on the painting, from an idea by gym owner Lee Johnston. hoping it will help members' mental well-being after months of Covid-19 restrictions.
"They wanted to create a mural that clients at the gym would relate to, as they both understand that not everybody is striving to be a body builder," said Sarah.
"Captain Tom is someone who is inspirational to us all.
"Particularly as gyms begin to open after lockdown, they felt it was important to remember a man who affected so many of us with his courage during these testing times - surprisingly, in a fitness sense as well as motivational, despite being 100 years old."
Lucy is currently in her final year at Lincoln University studying fine art and is an aspiring mural painter.
She has always been hugely interested in anything creative but over the past couple of years has developed a love for large scale paintings, such as this one.
"I thoroughly enjoyed painting this mural, and it was such an honour to commemorate such an iconic hero in this way," she said.
"I hope this can bring joy to clients in the gym and motivate them to become the best version of themselves".
Lucy's dream is to paint murals across the country and have her paintings on display in all kinds of locations. More than anything she would like to honour the icons of our society, and remember those who have changed all of our lives without even knowing.