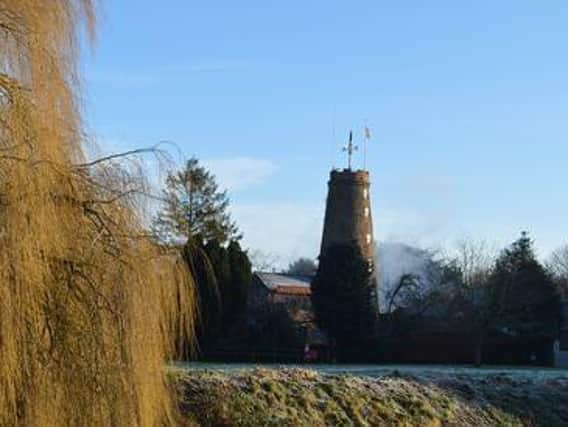 For Kerry Fussey and her partner Steve, who run the Red Lion at Revesby, support from the local community has been in invaluable during lockdown.
You might expect them to be raising a glass at news Covid-19 restrictions are soon to be eased.
However they, like many publicans at the other 50 Batemans pubs in the county and surrounding area, are responding with caution.
Kerry and Steve will not be opening for outdoor sales on April 12 and have taken the tough decision to wait until May when more restrictions are lifted.
"It's just not viable for us to open in April because we are out in the sticks - we are more of a destination pub," said Kerry.
"We also don't want a repeat of last summer when visitors rushed to the county as restrictions were eased.
"it was like lockdown had made people feral.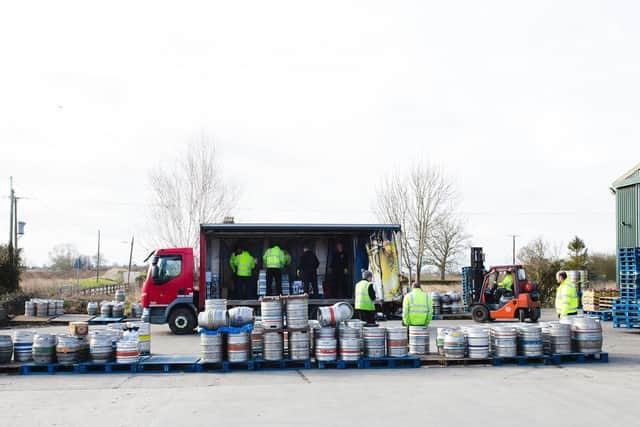 "In spite of the social distancing and measures we had put in place to keep everyone safe, families were allowing children to run up to the bar, some customers refused to wear masks and many were rude.
"We got into this business because we love talking to people but it got unreal and we said 'we don't need this'."
At the moment the couple open on Tuesday, Friday and Saturday evenings and Sunday lunch for takeaways.
"The local community have been amazing supporting us and we can't thank them enough," Kerry said.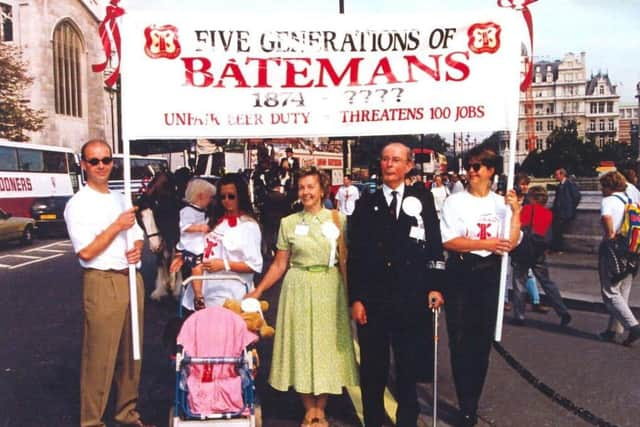 "We'll keep going like this to keep our name out there until we are able to open properly. We owe it to our regular customers to make sure they are safe and get the service they deserve when we do open."
When the time is right, no doubt a toast with Bateman's famous Victory ale will never be more poignant.
However, at the brewery in Wainfleet, the approach to coming out of lockdown is also being received with caution.
Fourth generation family brewers Jaclyn and Stuart Bateman are uncertain just how many of their pubs will open on April 12.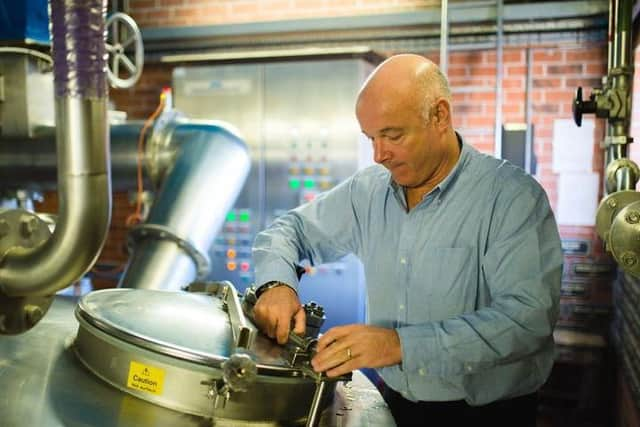 Marketing director Jaclyn Bateman said opening and closing pubs cost money - and more beer than she cared to remember had been thrown away when the country went bank into lockdown after a period trading last year.
"We might not be at the end, but we are certainly at the beginning of the end," she said.
"Boris Johnson has now given us some indication as to how he sees the reopening of the economy, including hospitality.
"He has made it clear that the dates he has given are the earliest possible dates, as with each date given he has repeatedly used the phrase 'no earlier than'.
"These dates, which are five weeks apart, are designed to give time for assessment of how the previous freeing up has affected the recovery situation.
"It is critical that when hospitality does reopen, it does so for good, as facing a further lockdown would prove extremely damaging.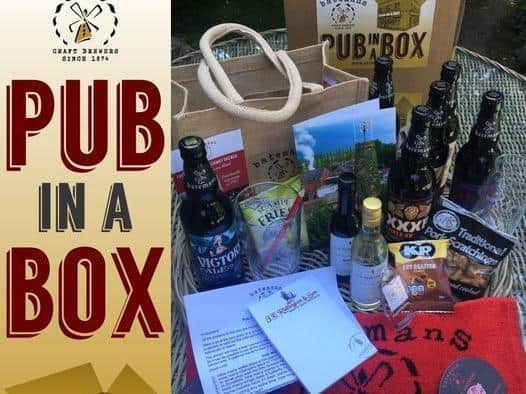 "What is clear is that the vaccination roll-out, and indeed its effectiveness, is exceeding expectations; so let's hope the reopening process does also."
Under the government plan, from April 12, pubs can open outdoors, with no requirement for substantial meal and no curfew. A maximum of six people can mix, or two households.
From May 17 pubs to be allowed to open indoors table service only. Maximum of six or two households can mix.
Then from June 21, hospitality is to open fully.
Managing director Stuart Bateman warned in his February message that pubs cannot take it for granted that customers will return straight away.
"People have become accustomed to such things as on-line shopping, staying in, drinking at home, social media communication, home entertainment, takeaways, Netflix, home working and not going abroad for holidays - come to that, not going on holiday at all," he said.
Batemans responded to this with not only online sales but the opportunity to order a 'Pub in a Box - including six Batemans bottle beers, a pint and I/2 pint Batemans glass, two single serve bottles of wine, drip mats, a bar towel, bar snacks and even a quiz.
Online sales also raised funds for the Marie Curie Daffodil Appeal.
"As the hospitality industry starts to open up again later in the year, we can't just take it for granted that people will flock back to pubs," said Stuart.
"Not only will we have to ensure that people feel safe in the pub environment, but we will have to show them, once again, that there is so much that the pub offers which 'home' can't.
"Back in the late 1940s and 1950s, the comforts which a pub offered were what we now take for granted, such as heating!
"Fortunately we have progressed from those days, but we still need to look at what we can provide which homes can't.
"There is so much that pubs can offer, based mainly on hospitality, service, company, 'community', a sense of belonging and of course cask beer! But we need to remember that most people won't find it easy to readapt to socialising, 'mingling', 'flowing conversation' and 'banter'; the things pubs are famous for.
"But things won't return as they were pre-Covid, for instance more customers will want to be able to order using apps and they certainly won't discard social media, just because the pubs are open again.
"So we need to ensure that we are doing things which complement their new ways of life."
Mr Bateman said he believed that good pubs, well run, would be seen as part of the solution, not the problem as was the feeling when the country entered its second lockdown.
"They do seem to have been labelled as part of the problem, over the last 12 months or so," e said.
"I also think that country pubs in rural areas will very much come back into their own.
"Who would have thought it 25 years ago, when breweries were scrambling to buy town centre pubs and sell county pubs for private residences. A penny for each time I heard the expression "we need chimney pots around the pub". Not too good to be on the town centre high street now!
"But as we know 'what goes round, comes round'. I do hope that more consideration is given in the future to how history can repeat itself. There are so many similarities between the 1918 Spanish Flu and today's pandemic. It hit America in March of 1918 and lasted until the summer of the following year (let's hope!). People even took similar precautions, social distancing, masks and isolations.
"We have been made aware that this virus will be with us, maybe forever, but we will have the ability to control it better and live with it.
"No doubt that one day there will be another pandemic, history tells us so as do the scientists, but hopefully we will be better prepared and ready.
"Pubs and publicans are very resilient, they will adapt. The two World Wars, the change in licensing laws, increased taxes, the smoking ban, the demand for food, children being allowed into pubs, the extension of licensed hours, the move away from the majority of pubs being owned by breweries; all had a big impact on the way in which pubs traded.
"So pubs will come through this, they will adapt and they will once more be the hub of communities. They will come back better, and be in greater demand than they have ever have been before, but there will be changes and there will be pubs which do not survive."
Ahead of April 12 there is, however, another hurdle facing the recovery of pubs.
During lockdown Batemans have been rallying support for a petition calling for a cut in Beer Duty, however following today's Budget the Government still seems intent on pressing ahead with plans to hike taxes on many small brewers through changes to small brewers' duty relief.
It is estimated around 2,000 pubs in the UK closed their doors forever last year -that's over five pubs closing down for good every day.
The UK Beer Duty bill is already the highest in Europe; with a rate is three times the EU average and 11 times that of Germany and Spain.
Forty-one per cent of brewers' turnover is Beer Duty, and beer sales account for almost half of pubs' turnover. A tax on beer isn't just a tax on brewers, it's a tax on pubs too.
"What we don't need on top of everything else is the Chancellor to increase beer duty," added Jaclyn. "Coming out of lockdown is going to be difficult for everyone.
"Workforces in the UK have got used to working from home or being furloughed - having to get back to tuning up for work on time five days a week is going to be hard for people. Not to mention the physical toll facing our drayman.
"It's going to be a shock."
Until they re-open, a number of the county's Batemans pubs in addition to the Red Lion in Revesby will continue serving takeaway food.
Bricklayers Arms, Old Leake
Butcher & Beast, Heighington
Fighting Cocks, Corby Glen
Cross Roads Inn, Lincoln Road, East Barkwith.
16 Bull Ring, Horncastle.
Hogsthorpe Road, Mumby, Alford.
Ship Inn, Chapel St Leonards
Willoughby Arms, Willoughby
Bateman's is a fourth generation family-run brewery based in wainfleet.
Great-grandparents George and Susannah Bateman started the brewery in 1874 to supply the local farmers, who paid their land workers part in produce, part in money and part in beer.
The family have been making well-loved beers and running pubs to the highest standard ever since.
After four generations, the family have fought hard to remain independent and feel it's their duty to protect it, along with our fantastic brewery and all that it stands for.
Batemans were the first brewery in the country to hold a fully accredited tenanted code of practice.
The brewery prides itself never compromise on quality or care for its customers.
Once restrictions are lifted there are sill opportunities to run a pub. Anyone interested should visit https://www.bateman.co.uk/run-a-pub/
For more detail about Batemans Brewer and the pubs visit www.bateman.co.uk .