Celebration at North Kesteven Building Excellence Awards
Some of the best examples of building excellence were championed at the annual awards for clients of North Kesteven District Council's Building Control service.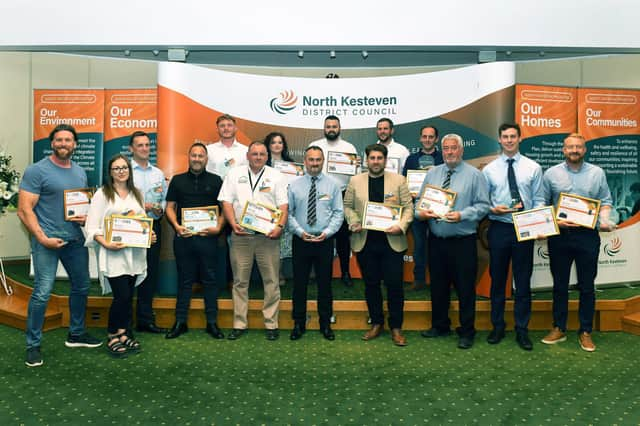 The 2023 awards were an opportunity to bring together construction professionals, clients and Building Control technical experts demonstrating that the district excels in creating new homes and buildings that are equal to – or in fact better than – other builds in the country.
The winning projects and professionals celebrated locally will now go on for consideration in the regional and, potentially, national awards, in contention with examples excellence from across the country.
North Kesteven District Council has an emphasis on building for the future, building for climate resilience and building to a Net Zero standard for improved lives and environmental wellbeing. This is carried through into the new Local Plan which informs building standards and principles for not only North Kesteven but also Central Lincolnshire partners and neighbours in West Lindsey and the City of Lincoln.
Coun Mark Smith, Executive Board Councillor for Building Control and environmental and public protection services, said: "We also strive to achieve the very best in terms of design and sustainability for our distinct communities.
"I am delighted that we can celebrate the individuals and businesses that have made this happen; without whose skills and hard work none of this would be possible."
The process of choosing the evenings finalists was done by a panel of senior managers and councillors engaged in housing, property services, planning, environmental health, and zero-carbon development. There was much
discussion involved in selecting between a range of interesting and high-quality projects that have been achieved across North Kesteven.
Awards were handed out over nine categories, highlighting the impact of high-quality construction across the dDistrict.
Here are the finalists and winners at the North Kesteven Building Excellence Awards:
Best Extension or Alteration to an Existing Home:
- 111 Boston Road, Sleaford - winner
- 72 Church Lane, Kirkby la Thorpe
- 35 Kyme Road, Heckington
- 34A Lincoln Road, North Hykeham
A single storey annexe designed by architect Rick Smith and built by Josh Tilley was the winner, providing for sustainable multi-generational living, the project reconfigured a house in a way that brings the whole family together. The build provides a carefully-thought-out and welcoming wrap around extension creating a much larger dwelling for multi-generational use whilst providing self-contained accommodation.
Through inclusion of air-source heating and solar photovoltaic panels, the scheme achieves enhanced sustainability and affordability, allowing for the enjoyment of the premises for many years. Builder Josh went over and above to deliver for the client in keeping long term costs low.
Bearing in mind that the house was still lived in while work was being carried out, there was no disruption, and the client was very happy at the end.
- Land at St Hughs Business Park, Camp Road, Witham St Hughs – winner
- Farrow Farm, Main Road, Anwick Fen
An office building with integral gym for community use build by its owner Garry Fawcett was the winner. This project benefitted from the client's meticulous attention to detail, vision and highest-quality materials resulting in a well-designed space for the development of the local economy, that also provides for community access to stay healthy, keep fit and train.
By adopting a proactive stance in asking for and acting on advice in a timely fashion, builder Garry developed an excellent reationship with Buildng Control ensuring no site problems.
Best Individual New Home:
- Land adjacent to 5 Martin Road, Timberland – winner
- Land adjacent to 14 North Road, Cranwell
- Land adjacent to 3 Royal Oak Lane, Washingborough.
A one-off family home designed by Rick Smith and built by Ben Wootton that incorporates eco-friendly innovation within its form was the winner in this category.
This design-led, attractive, well-proportioned home secures an extraordinary EPC rating of 94, which is seen as an outstanding achievement for a two-storey family home of its scale, due to enhanced insulation and renewables, photovoltaic panels, Tesla storage batteries and an air source heat pump designed to reduce long-term energy costs.
Best New Housing Development:
- Land at Former George Hotel, High Street, Leadenham – winner
These were seven new-build stone houses from Glenrowan Homes that blend and fit into the area nicely.
Quality, excellence, and aesthetics are at the heart of this project, where neighbours and residents have been nothing but complementary about the development from start to finish. The site was professionally run by site
manager Darren, producing seven very high-quality houses that fit seamlessly into the sensitive surroundings as a real credit to himself and Glenrowan Homes.
Best Change of Use of an Existing Building or Conversion:
- Preston's Farm, Eagle Hall;
- The Windmill, Heath Road, Scopwick – winner
- Land at Brankley House, Far End, Boothby Graffoe
- Bramble Lodge, 3 Thorpe Road, Ewerby
A self-build conversion and extension to an historic windmill last used a century ago, by James Drennan & Jules Wilkins was the best change of use. This property offers original character combined with modern living standards in the creation of a uniquely interesting family home built around a circular central core.
The applicant had a vision and, with architect David Parish, delivered on that vision. With the use of old photos to restore listed features and innovative approaches to meet modern safety standards the skill, craftsmanship and approaches employed in this self-build project ensure its completion to the highest standards.
Best Social or Affordable New Housing Development:
- Land off Moor Lane, Potterhanworth – winner
- Land adjacent to 123 Station Road, Waddington
- Land to the rear of Grantham Road Car Park, Sleaford
- Land at Welchman Way, Heckington
Lindum BMS's construction of eight highly energy-efficient homes for North Kesteven District Council at Potterhanworth were designed by Low Carbon Box.
Built to the international Passivhaus standard of airtightness, their design and exceptional execution stops the unnecessary movement of air, avoiding loss of warmth. Heat reclamation systems boost efficiency – making them both comfort and low-cost to live-in.
What emerged represents an example of what can be achieved through innovative thinking and exceptional foresight and engagement.
Best Educational Building:
- Witham Prospect School, Newark Road, Norton Disney – winner
- Ruskington Chestnut Street CofE Primary School, Ruskington
- St Michael's CofE Primary School, Thorpe on the Hill
A classroom extension incorporating a student dining area, designed by Ryland Design Services was the winner in Norton Disney.
This well-designed multifunctional educational space has resulted in a comfortable, spacious, bright facility with all of the amenities needed to enhance opportunity for a brighter start to life.
The extension blends seamlessly into its surroundings and is overall a very aesthetically pleasing functional design. The proactive management of the site, maintained by a thorough approach to health and safety, led to an
outstanding project delivery.
Best Local Builder or Traditional Craftsperson:
- Rob White, Lincoln - Winner
Rob has 20 years of experience in the trade, the last seven working for himself. A conscientious builder who always endeavours to achieve the highest possible standard of work to deliver for his customers a timely and cost-effective outcome to their project. He is an excellent builder who shows an enormous amount of customer care and pride in his work with a mantra that the work he produces should be good enough for his own home.
Construction Professional of the Year:
- Richard Charles, site manager for Lindum on the Potterhanworth project
- Darren Price, Former site manager for the Glenrowan project in Leadenham – winner
With 24 years of construction industry experience, Darren has progressed through site and contracts management, co-founded Glenrowan Homes which built the winning project at The George in Leadenham he site-managed and is now with Keepmoat Homes.
Darren's level of knowledge, commitment and personal pride is outstanding as he goes above and beyond in ensuring full compliance and the satisfaction of all involved, from client and BC inspector to colleagues and site
A special award for Contribution to Sustainability:
- Land adjacent to 5 Martin Road, Timberland;
- Land adjacent to 14 North Road, Cranwell;
- Land adjacent off Moor Lane, Potterhanworth – winner
- Paul Jenkinson (Lindum) – special award winner of contribution to sustainability
Pushing the District Council's build standard of new council homes to the highest level of energy-efficiency, these homes are built to the internationally recognised Passivhaus standard where energy-saving solutions are integral to the design from the very outset. Adding to two established, also award-winning Passivhauses in Heckington, these newest properties extend a long history of environmentally minded building by the council, including the very first council homes to be built with straw, extensive early adoption of ground and air-source heating and high-level fabric standards over the last decade.
Orientated to maximise the sun's heat, with solar panels and battery storage, enhanced insulation and draught-proofing, and mechanical heat recovery; no boiler, air source or ground source pumps are required as the homes are so well insulated, the heat generated from the occupiers is sufficient.
Comfortable and low-cost to live in, this is the ultimate benchmark for North Kesteven District Councils future homes, raising the bar and leading the way in sustainable building and reducing fuel poverty for local people.
All the winning projects have been nominated for the LABC Regional Awards and from there the regional winners will be invited to the Grand Finals to be held in London on Friday January 19 2024.
Coun Smith concluded: "Thank you, to all the finalists and winners for all the work that is involved in pioneering and maintaining excellence in the built environment and for putting their confidence in the Local Authority Building Control service.​​​​​​​