While many businesses are hoping for a 'Super Saturday' and the return of 'some sort of normality', there is also concern about how visitors will react to the pages of Government guidance put in place to prevent the spread of Covid-19.
Bookings for accommodation and caravan sites have also been impacted by the lockdown in Leicester, with a plea from East Lindsey District Council for businesses to be understanding in offering alternative dates and refunds, as well as for visitors to be patient.
According to Fantasy Island, in spite of the changes, people will still be able to enjoy the fun of the fair..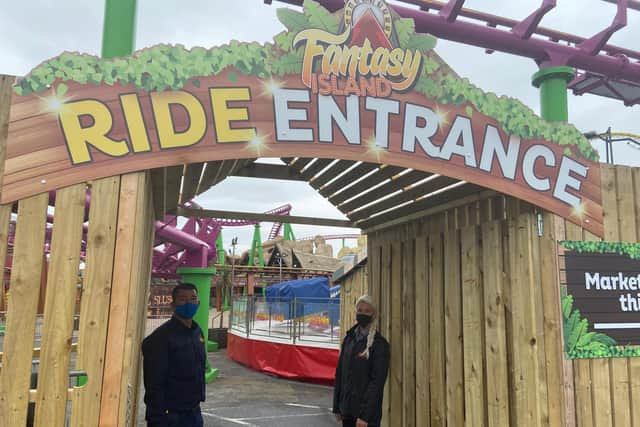 Visitors at the theme park will have the opportunity to reach for stars when the 70m Starflyer taker to the air for the very first time.
The Fantasy Island team are hoping visitors will respond well to the social distancing measures put in place in the same way they did when the market re-opened last month.
James Parker, operations manager, said: "It's a very trying time but ultimately we have made the preparations and hopefully we can create a happy and safe environment for people.
"There are lots of changes. We are limiting the number of people who can come on-site, one-way systems. extended queue lines. and 70 plus sanitiser units dotted around. Things are different but ultimately the rides are still running and people will be able to enjoy the fun of the fair."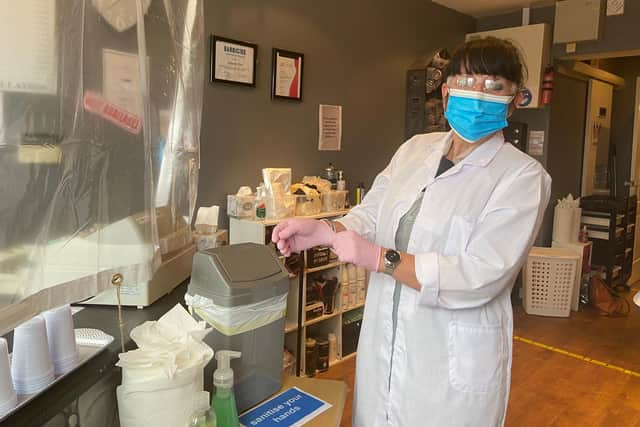 Avoiding small talk will be the hardest challenge for hairdressers, says Amanda Flint, owner of Hairs and Graces in Chapel St Leonards.
"We're super excited about re-opening but have no idea how that is going to work," she said.
Amanda has run her business for more than 30 years and says she has been lost not being able to work. She said she has spent the past few weeks deep cleaning and preparing the salon, as well as gaining two 'corona diplomas' which are proudly displayed on her wall, along with signage so customers are clear about the changes.
Customers have to pre-book and there will be just two clients in the salon at a time. Gone are the chairs in the waiting area, magazines and hot drinks and two-meter distancing will be imposed where possible.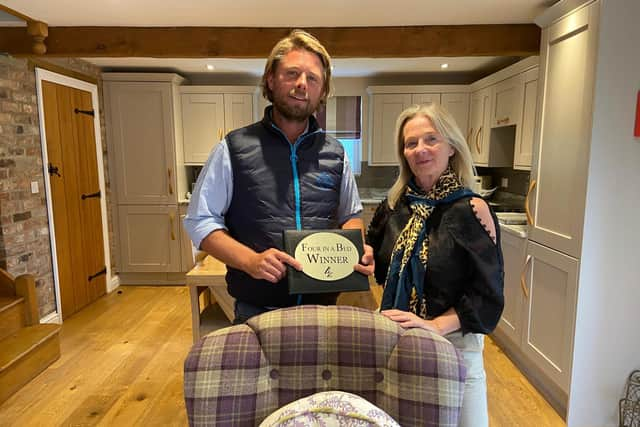 "We are ready to open our salon and we hope people understand that what we have done is to keep both customers and staff safe.
"We are taking this further by joining a national appeal to open the beauty side of the business.
"We can understand concern about facials but don't understand why we can't do pedicures or manicures on washed hands.
"I am with the Federation of Hair and Beauty Therapists and, along with other beauty therapists, have sent an open letter to our MP in the hope we will soon be able to resume our beauty business too."
Interest in Jockhedge Holiday Cottages, Farmhouse and Touring Site in Burgh le Marsh has increased more than 500 per cent since the mother and son team of Karen and Liam Cumberlidge, who run the business, recently won Channel 4's Four in a Bed.
All eight cottages, a large farmhouse and the caravan site for 20 tourers are opening for business, with a focus on maintaining their gold star rating with the Tourist Board and 100 per cent for cleaning.
Since winning the TV show, the phone hasn't stopped ringing with enquiries. Liam said: "We are definitely ready to open and we can't wait to invite everyone back and to get back to normal.
"Our customers are self-isolating anyway in tourers, many with their own showers and toilets. But we have made changes, including putting in a one-way system to our toilet block and have gone above and beyond with our cleaning this year."
However, not everyone is optimistic. Licencee of the Highwayman pub in Chapel St Leonards Claire Claxton says after 26 years in the business, she is very anxious about the changes and has already handed in her notice to the brewery,
Social distancing tape across the floors, signage, collecting names at the bar for contact tracing, wearing of masks, and no background music or sound on the televisions to prevent customers leaning towards each other to make themselves heard are ripping the heart out of the pub experience, she believes.
"We are really looking forward to welcoming back our customers and we hope they understand what we have had to do," she said. "We have always prided ourselves on being a family pub but children will no longer be able to run around.
"Some pubs have banned children and I can understand why.
"We won't be doing food and have closed the restaurant to make more room.
"People will have to take their own darts and pool cues and wipe balls after their shots.
"It could all go either way and I don't mind admitting that I am worried."
East Lindsey District Council has recognised the efforts of the traders to get ready for the weekend.
Coun Steve Kirk, Portfolio Holder for the Coastal Economy, said: "This is a whole new game but traders have been working really hard to get ready.
"They have been looking at the guidance and if people are sensible and keep one-meter minimum social distancing everyone should have a good, safe time."
*For the full story of the coast's re-opening, see Wednesday's Skegness Standard.