Collab between companies branches out into nature activity packs
​Families heading for a glamourous glamping break can now find out more about the wildlife in their surrounds thanks to a collaboration by two of Louth's businesses.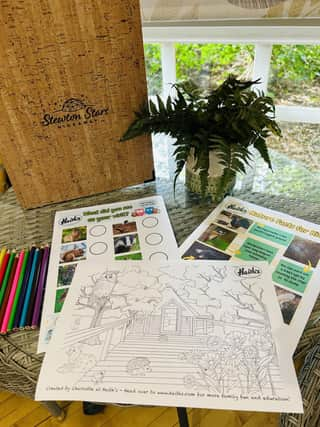 ​Earlier this year Jess Ramshaw, owner of Stewton Stars Hideaway, reached out to Louth-based bird food company Haiths inviting the team to collaborate in supporting her business.
The Haith's team proposed creating three custom-made children's nature resources tailored specifically
for Stewton Stars' surroundings, with the aim of not only enhancing the overall experience for young visitors but to promote a deeper connection with nature.
Julianne Jessett, who oversees the Family & Education section at Haith's, asked Jess to provide a list of wildlife that often visit the Stewton Stars rural setting.
She then put together a nature sheet for children and families, including a 'What did you see on your visit?' tick sheet, to encourage families to explore the country setting and search of a glimpse of wildlife.
Charlotte Nugent, Haiths Social Media Champion, also designed a colouring sheet inspired by the Stewton Stars setting, and Jess then suggested an informative nature fact sheet, which Julianne brought to
life by designing a page that included interesting facts about birds, trees and mammals.
The packs are now available in every cabin at Stewton Stars, and Jess has also installed Haiths' feeders and seeds around the park.
Jess said: "Julianne and Charlotte have been amazing, designing a trio of activity sheets which I know will benefit all our family visitors. I was also delighted to discover Haith's have a wealth of other educational resources, from wordsearches to nature podcasts, all available on their website for anyone to use.
"We have only just launched them but I'm sure they will be really successful, we've already had a family with an autistic daughter who loved them, which is great."
"They really are a fabulous business, and we are so lucky to have them on our doorstep. Thank you Haith's!"