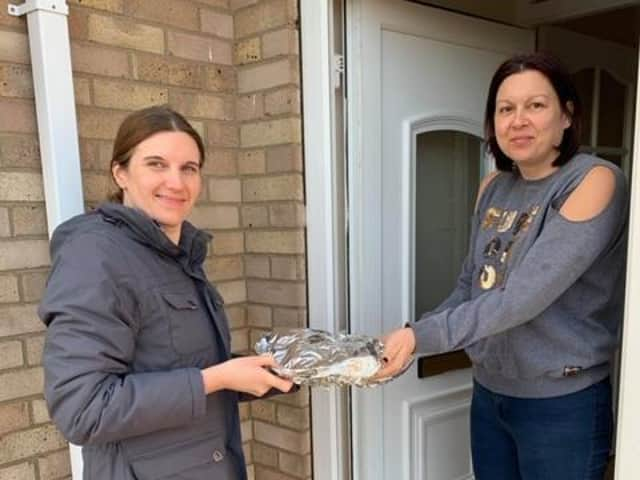 Wainfleet Area Self Isolation Support is being co-ordinated by Coun Wendy Bowkett, who led much of the community response during the floods in June last year.
The support team involves Wainfleet All Saints Town Council, Wainfleet St May's Parish Council, The Royal British Legion, Parish Nursing and the local churches.
It offers help to those self-isolating or unable to get out and about with picking up shopping, posting mail, urgent supplies or just to give a friendly phone call .
Coun Bowkett said: "Everyone is doing their bit. The ,moral is good and everyone wants to help where they can.
"We are just hoping we keep with the low numbers of people with coronavirus in Liuncolnshire. It's very scary."
T&C foods have been offering a delivery service and staff at Wainfleet chippy made people smile by posting its takeaway service dressed in Superhero costumes.
Sarah Ringsell, of the chippy, said: "Moral os OK at the moment and we are trying to encourage people to phone in their orders to limit contact.
"Wainfleet has been through a lot but we rally around and look after each other."
Similar stories are emerging in other parts of our district. At the coast, a 30-year-old local singer has launched the Skegness Community Covid-19 Support Group, which now has more than 5,600 members.
Danielle Stoakes celebrated her 30th birthday by singing live, including an emotional rendition of the Beatles' Let It Be
She said: "I have delivered drinks and snacks to the ambulance station and Skegness Hospital.
"We have members who are getting shopping for the vulnerable members of the community too.
"As well as singing live I have been running 'Be Kind' competitions to raise local positivity. We are just trying to do what we can."
Vicar of Skegness, the Rev Richard Holden, was also helping to raise the spirits of the community in his group of churches by delivering his Sunday morning service from St Matthew's Church live on Facebook.
He said: "It feels very strange with just two of us here, but we are the church even when we are spread out."
A restaurant in Burgh le Marsh was raising smiles on Mother's Day by delivering food to people's doors.
Sharon Noble, proprietor of the Windmill Restaurant which closed along with others on Friday at the request of the Government , said: "We've had about 100 daughters and my children have been helping with deliveries.
"We've already had people contacting us saying we have made their day and plan to carry on until we are able to open again."