Consultation date set for energy park plans near Sleaford
Communities have been invited to give feedback on proposals for a new, 600MW renewable energy park, which could power more than 190,000 homes with clean electricity.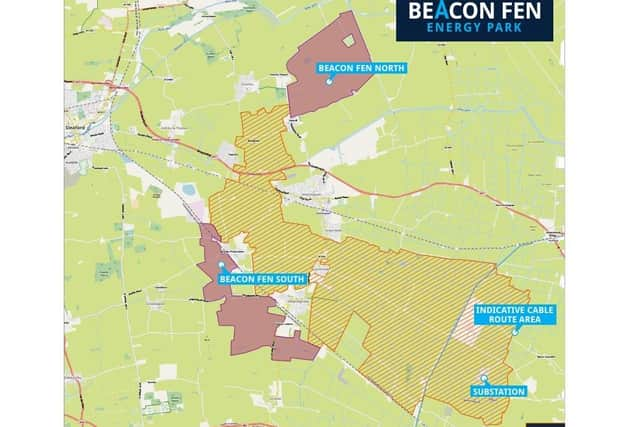 The Beacon Fen Energy Park would be made up of solar panels with energy storage facilities, and is proposed for land spread across two sites.
Beacon Fen North is north of the village of Heckington while Beacon Fen South is south of Helpringham.
The early (non-statutory) engagement consultation for Beacon Fen Energy Park will run from Monday May 15 to Sunday June 18 and will include a series of in-person events and webinars for stakeholders and communities to attend.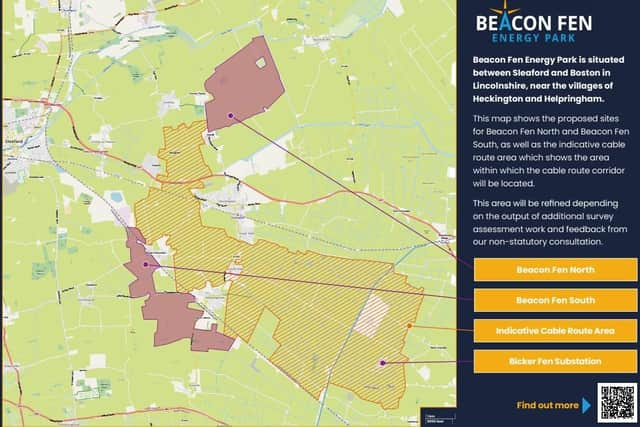 Renewable energy company behind the project, Low Carbon has confirmed that, if given permission, Beacon Fen Energy Park would generate an estimated 600MW of electricity a year while also avoiding up to 120,000 tonnes of CO2 emissions annually.
Network infrastructure will also need to be built as part of the project to export the electricity generated by the energy park into the grid, which under current plans will be via an existing connection point at the Bicker Fen substation.
James Hartley-Bond, director at Low Carbon, said: "Speaking directly with local communities and stakeholders will be a core part of our approach throughout the development of Beacon Fen Energy Park and we want to hear
directly from them about their thoughts on the proposals. Local people hold essential information which will feed directly into the project and we look forward to hearing their views first-hand."
As part of the consultation, in-person events will be held at:
- Heckington Village Hall, High Street, Heckington, on Thursday, May 18 from 2pm to 7pm;
- Helpringham Memorial Hall, George Street, Helpringham, on Saturday, May 20 from 12noon to 5pm;
- Ruby Hunt Centre, Church Street, Donington, on Friday, June 9 from 2pm to 7pm.
Two online webinars have also been organised for:
- Tuesday, May 23 from 6.30pm – 8pm;
- Wednesday, June 14 from 6.30pm – 8pm.
Those wishing to attend a webinar can register at www.beaconfenenergypark.co.uk from May 15. No registration is required to attend the in-person events.
Mr Hartley-Bond added: "The UK Government has made clear its plans for the country to reach Net Zero by 2050. Its aim is to increase the nation's solar capacity fivefold by 2035. If given permission, Beacon Fen Energy
Park will be a significant step forward towards reaching this vital goal and securing sustainable energy for the country.
"We invite all members of the local community to take part in our early (non-statutory) consultation, where our team will be on hand to meet with residents to provide them with the latest updates on the project and answer
any questions they have. By taking part in the events they will have the opportunity to shape this unique project, which could power in excess of 190,000 homes."
The amount of electricity Beacon Fen Energy Park could generate exceeds 50MW and is therefore classified as a Nationally Significant Infrastructure Project (NSIP). This requires Beacon Fen Energy Park to submit an
application for a Development Consent Order (DCO) to the Planning Inspectorate.
The process for the project through to DCO submission and then examination is expected to take between two and three years. Subject to achieving consent, construction would start no earlier than 2026.