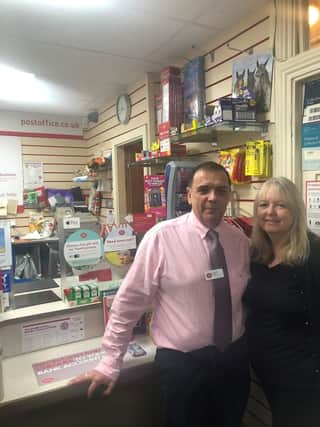 The post office - run by Martin Sizer and Kaye Lee - picked up the 'community engagement' award at the Post Office's 'We're stronger Together Awards' for the East of England.
The awards recognise efforts made by postmasters across the region to keep branches open during pandemic.
Postmaster Mr Sizer said: "It is a great honour to be recognised for this award and it came as a complete shock when Kaye and I watched the awards on our laptop.
"Helping the community is at the forefront of everything we do in Caistor and we have tremendous support from our customers so it is only fair that we do as much as we can to help everyone who supports our business.
"I would also like to say that it is not only myself but all my staff and family who drive this business forward and everyone involved in Caistor Post Office are as committed as I am to going the extra mile for everyone that depends on us for the services that we provide.
"It will take more than a virus to destroy our ethos, spirit and what we truly believe is the way to support our community."
Post Office area manager Joanne Fryatt said: "Caistor won this category as it proactively went to local businesses to see how they can support each other through the crisis, resulting in postmaster Martin Sizer and his family working Sundays to process hundreds of Drop and Go mail items for local businesses who have also had to adapt."
The award was presented to Mr Sizer and Ms Lee virtually, by Post Office Chief Executive Nick Read.
He said: "I have heard many inspiring stories of postmasters going the extra mile and I have
welcomed the opportunity to hear first-hand how postmasters in the East of England
have fared during the pandemic including Caistor."
In 2019 the post office opened on Easter Sunday so customers could get cash, when the only ATM in the town was ripped out by an attack.