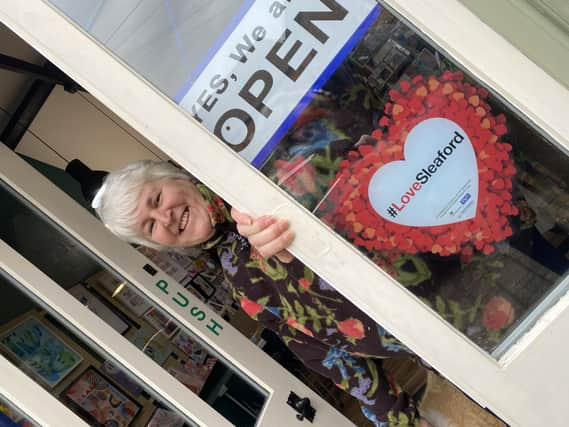 Working in conjunction with retailers and businesses, North Kesteven District Council is inviting residents and visitors to help create a visible expression of what they like and love about Sleaford by adding to a #LoveSleaford heart seat installation in place from February 1 at the Riverside Precinct.
People will be invited to write the things they love most about Sleaford on dedicated tags and add these to the heart seat throughout February.
They could name an activity or place, an element of the town's history and culture, a favourite local shop or business in Sleaford, or as Valentine's Day approaches people might also wish to add a tag in appreciation of other aspects of life such as their loved ones or local communities.
People are very welcome to take photos at the love heart seat with themselves and others, which can be shared on social media with the hashtag #LoveSleaford to help share the love for Sleaford and help promote the district.
The heart seat will be available every day until February 28 for people to take photos and leave their tags on it, and will be lit via LED for timed periods in the evenings as an additional opportunity to enjoy it.
The tags are available now from a number of shops and businesses across the town centre including, so far: Sleaford Library, The Hub, Souls Boutique, Beautifully Handmade Gift Shop, Lincolnshire Stoves and Fireplaces, Longwater Construction Supplies, Spolton Mortgages and Ruth Burrows Illustration.
Any businesses interested in hosting tags for people to collect can email [email protected] to request them, and there are also a limited number of window clings for businesses to display.
This project is funded by £4,500 from the UK Government through the UK Shared Prosperity Fund.
Council Leader Coun Richard Wright said: "The heart seat will act as a central point where everyone can share the things which make them proud of living, working or otherwise being part of life in Sleaford and really demonstrate together why it's this fantastic place to be.
"It's just as important however that we shout about all there is now to enjoy in Sleaford and the incredible things it has to offer."
It forms part of the projects within the Council's wider investment plan put forward for funding through the UK Shared Prosperity Fund.
Approved by Government recently this plan other projects which will begin to be implemented between now and March 2025:
- Redesigning public realm to improve the setting around the Handley Monument in Sleaford, and enhancing the garden space outside Sleaford Museum to create a stronger identity and sense of arrival while linking with the improved space around the monument.
- Improvements to the appearance of the Nag's Head passage, to promote it as a direct route to Sleaford Castle, the station and town centre.
- Improving the appearance of the alleyways in the town centre.
- A grant scheme to encourage improvements to building façades and frontages within the Sleaford town centre.
- Public realm improvements to the historic Market Place with an enhanced setting for St Denys' Church and the War Memorial.
- Additional new wayfinding signage within Sleaford town centre.
- Operated by the River Slea Trust, a river boat to run pleasure trips between the Hub and Cogglesford Mill as an attraction for residents and visitors.
- Provide a dedicated castle exhibition space within Sleaford town centre to serve as the starting point for a visit to the Sleaford Castle site.
- Expand the existing Sleaford heritage trail with additional places, trail markers, and interpretation panels at key destinations.
- Develop and deliver an events programme for Sleaford.
- A package of measures to support local businesses across North Kesteven, and separately, social media training for businesses.
- A pilot project to introduce mobility hubs to Sleaford to encourage sustainable and active travel.
- Work on employability and skills, including a project run by Voluntary Centre Services to help people into paid work via a range of learning,​​​​​ ​​skills, and work-related activities, and another programme to support economically inactive people to prepare to return to the workplace.
- A programme run by YMCA to inspire young people to be central to the building of inclusive and safe neighbourhoods and positive change.
- Mind, Body and Spirit programme run by the YMCA to meet the needs of young people in Key Stage 2 – Key Stage 4.
Plus feasibility studies on:
- how to maximise recreational and leisure uses connected with the River Slea corridor as it passes East to West through the town centre.
- detailed streetscape/public realm enhancements within the town centre, supporting distinctive identity and heritage. Key areas include​​​​​​​ Southgate, Carre Street and Sleaford Station. This study will also explore
how to improve layout and quality of pedestrian routes in Sleaford town centre to encourage more travel on foot.
- exploring the requirement for a new hotel and conference facility for Sleaford.
- options to be explored for increasing the accessibility, amenity, and​​​​​​​ use of Castle Field, as a key historical site within the town centre.
Councillor Wright said: "The projects here focus on three priority areas which have been set out by the UK Shared Prosperity Fund to help improve life chances and pride of place in areas which are awarded the funding. These are​​​​​​​ communities and place, supporting local business, and people and skills.
"Our plan also aims to meet five further challenges facing the district including Sleaford – town centre economy and town environment, access, wellbeing and inclusion.
"It's a complex plan with projects individually staggered across the next few years to 2025 and with many details and individual elements continuing to be worked on, however we'll share more information as they are shaped."
More information on the projects will be shared as available through North Kesteven District Council's website at www.n-kesteven.gov.uk and social media channels @northkestevendc
There will also be a dedicated Levelling Up newsletter from the Council. You can​​​​​​​ sign up for this newsletter at www.n-kesteven.gov.uk/stayconnected​​​​​​​