Theme park bosses make plea to government leaders to save Skegness
Theme park bosses are urging the Government to protect businesses in the Skegness area following a spike in Covid-19 cases in surrounding counties which is resulting in record cancellations.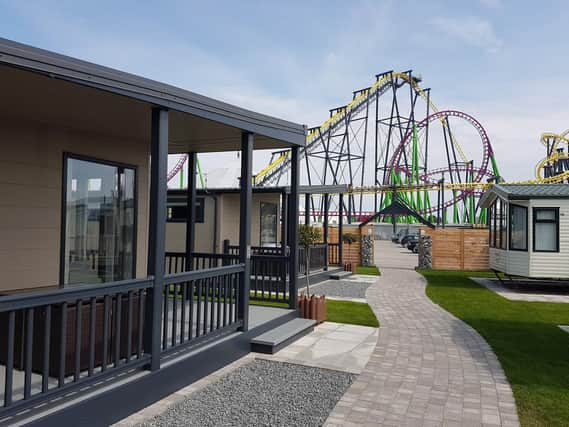 Local MP Matt Warman says Fantasy Island in Ingoldmells will be able to access, like any other business, parts of the Government's overall £200billion package of support.
However, with Nottingham entering Tier 3 lockdown this week, adding to the pressure, Fantasy Island says this is not enough.
Even with new Halloween attractions, bosses say business is quieter than previous years and they are experiencing 'unprecedented' cancellations.
This is in spite of substantial investment by the owners, the Mellors Group, to make the resort safe from Covid-19 for visitors and staff.
A spokesperson said: "The national government lockdown earlier in the year removed a substantial element of our annual income but we have worked through this, with local and national government support, and made a decision to press forward with investment to encourage people to continue to visit the Lincolnshire coast.
"We now face a new hurdle of local lockdowns and are seeing a substantial reduction in the number of visitors every day.
"Unlike leisure and hospitality businesses that have been put into Tier 3, we are unable to see where we can seek financial support.
"Whilst it is positive for the area as a whole that we remain in the medium risk Tier 1, there seems to be little thought about the effect on leisure businesses or the impact of other regions going into Tier 3.
"Like many tourist attractions, we are now in a situation where all of our key customers' locations are now either in, or are heading into, Tier 3 and therefore are seeing an unprecedented number of cancellations.
"We are committed to investing in both our family resort and the coast and wholeheartedly believe that if we work together we can bring the Lincolnshire coast to the forefront of UK tourism.
"However, we desperately need support during the winter to ensure we can maintain employment."
We spoke to MP Matt Warman about Fantasy Island's concerns and he commented: "The Government's economic priority is to protect jobs, and support for business has reached millions of firms. But the way we do that needs to evolve as the pandemic, and our health response, evolves. The Winter Economy Plan and Job Support Scheme is the next step in protecting businesses, jobs and livelihoods.
"Fantasy Island will be able to access, like any other business, parts of the Government's overall £200billion package of support. The Chancellor has extended access to four of the temporary loan schemes (CBILS, CLBILS, BBLS and the Future Fund) and provided flexibility to repay these loans and deferred VAT. In addition, the Government is significantly increasing support for jobs in businesses facing lower demand over the winter due to Coronavirus; the Job Support Scheme is available to the entire UK regardless of local tier categorisation.
"Of course, I don't deny that the hospitality and tourism sector has specific needs, given that social interaction is the very essence of their existence. I will be speaking with the Treasury and Tourism Minister to emphasise this point."