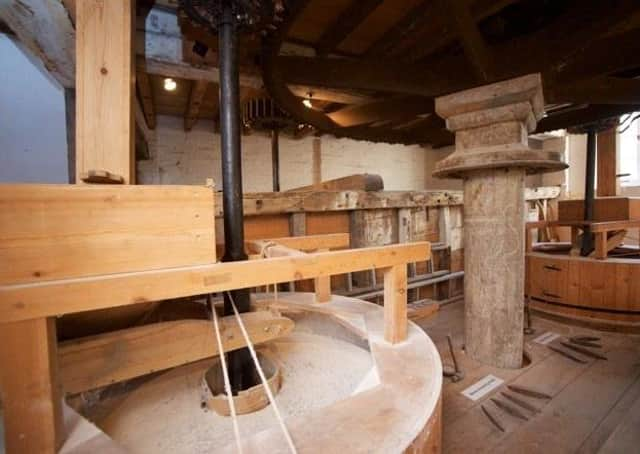 Prime Minister Boris Johnson announced that he would be relaxing the social distancing guidance to "one metre-plus" where additional precautions would be expected to be applied instead of the two emtre rule in order for hospitality and leisure businesses to reopen from July 1.
This means pubs, restaurants, libraries, cinemas, B and Bs holiday parks and hotels will be allowed to reopen, as well as hairdressers.
North Kesteven Council Leader Coun Richard Wright said: "The relaxation of restrictions, as timed and set out by Prime Minster Boris Johnson, is welcome news for North Kesteven businesses and especially those in our service and hospitality sectors which have been a much-missed part of daily life during lockdown.
"It's thanks to the sacrifices we've all made in our response to lockdown that this point has been reached and life can soon feel a little more normal once more, of course with social distancing still firmly in place.
"Our tourism destinations – Cogglesford Mill, Mrs Smith's Cottage, Navigation House and Cranwell Aviation Heritage Museum – are permitted to reopen under the new guidelines announced and it will be wonderful to see visitors enjoying them once again.
"We're putting plans in place for the staggered, individual reopening of these sites, and will share firm dates for each as soon as we're able to so do, so please keep an eye out for more in the news and our @heartofsleaford social media. We're also working on a system which will allow pre-booking to help maintain social distancing measures and safety for visitors, volunteers and staff.
"Coronavirus has not gone away, however, and to continue to protect health at this time sadly indoor leisure facilities such as gyms and pools are among those places which must still remain shut."
This will impact on the town's leisure centre, Better Gym, numerous other private gyms and the indoor bowls club, while beauty salons and nail bars are still not allowed to open due to their proximity of working.
Coun Wright said: "We continue to work closely with our leisure operators and look forward to a time when they may also reopen once more. In the meantime, we'd encourage people to still go out and exercise in as many ways as they can to stay healthy.
"Our teams have been working with local businesses throughout the pandemic to help them understand Government guidance on trading at this time, from those very first restrictions and closures under lockdown through to reopening with social distancing measures in place.
"Like everyone else we await further Government guidance following this newest set of changes. As soon as it is available our colleagues including our BusinessNK and Environmental Health teams will be on hand to help these businesses - from restaurants and pubs to B&Bs, self-catering accommodation, hotels and more – understand what's expected of them by Government in order to welcome customers back in the safest possible way."
Government ministers have suggested today that gymas may be allowed to open by the middle of July but this is unconfirmed.
Greenwich Leisure, which runs the Better gym and Sleaford Leisure Centre, has expressed its disappointment regarding the continued closure of gyms, swimming pools and leisure centres across the UK.
They said they are working with UKactive, Community Leisure UK and other key governing bodies and leisure operators, to ask that the government re-evaluates its approach with easing lockdown, to look to re-open essential community facilities as soon as possible.
They said: "As a charitable social enterprise, our gyms, swimming pools and leisure centres operate for the benefit of everyone's health and fitness in the local communities we serve. Exercise is so important for both mental and physical well-being, and it's becoming increasingly important to support COVID-19 resilience and rehabilitation.
Chief executive Mark Sesnan said: "The government has made a potentially catastrophic mistake by leaving community leisure centres, indoor gyms and swimming pools off the list of businesses that can re-open on July 4. Nor given any indication when they might re-open. This needs urgent review and we need to open as early as possible.
"This will be bad for business, bad for jobs and bad for the health of the nation. The failure to re-open will result in:
"Vulnerable businesses, (including many not-for-profit organisations) within the sector folding. After 12 weeks of lockdown this is already happening;
"Thousands of leisure industry jobs being lost;
"Many community leisure facilities closing for good."
He claimed the Government is "ignoring the health of the nation" when conditions such as obesity and diabetes significantly increase the risks associated with COVID-19.
Mr Sesnan said: "We all enjoy a pint. But if pubs and restaurants can re-open it defies logic that indoor sports and leisure facilities remain closed – particularly public facilities designed to serve local communities. This decision appears misguided and short sighted. We need an opening date for our sector immediately.
"We will do everything we can, with the support of you our members, UK governing bodies, and with our fellow leisure operators to work to overturn this decision."
He urged customers to Tweet or write to their local MP or sign a petition, add their voice to the debate and even use the hashtag #openourpools.