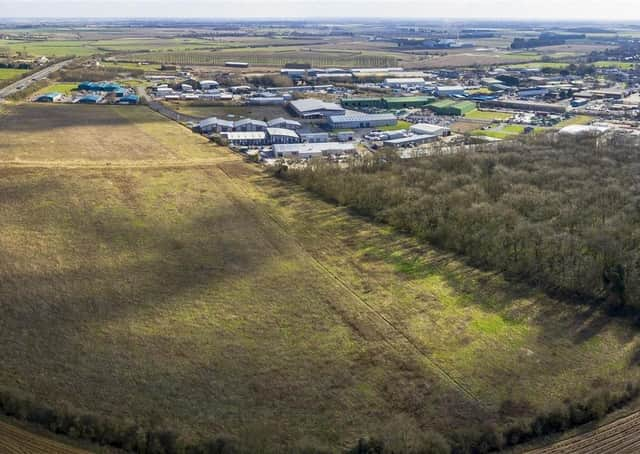 The proposed business par looks to bring together economic growth with measures to cut carbon and respond to climate change in North Kesteven.
A detailed masterplan has been released for NKDC's 37 acre Sleaford Moor Enterprise Park, on land north of Pride Parkway in Sleaford.
The plans show 37,245 m2 of floor space for new business and industrial units, creating much-needed space for businesses to expand and potential for attracting new investment to the district.
A hybrid planning application containing the masterplan has been submitted for planning consent, along with indicative drawings and layouts.
Last month the council, which purchased the site to speed up its development, revealed some details as part of an environmental screening process.
It now seeks full planning permission for the construction of site-wide infrastructure including a spine road within the site, landscaping, drainage and earthworks, and at the same time requests outline permission for 37,245 m2 of new buildings with further details for them submitted at subsequent stages.
Leader of North Kesteven District Council Coun Richard Wright said: "Our Sleaford Moor Enterprise Park is a significant investment for North Kesteven and after much hard work we're immensely proud to share the detailed masterplan with our communities and seek the permission required to make this long-held vision a reality for our district.
"It's a chance to unlock opportunity in North Kesteven. It's also a mark of confidence in our businesses and communities which together, and despite the difficulties still caused by coronavirus, stay determined and resilient and continue
to make our district the fantastic place it is to live and work in.
"A key aim for Sleaford Moor Enterprise Park is to respond to climate change, and so it would incorporate advanced low carbon and environmentally conscious measures in order to achieve a sustainable site which will create a precedent for
"We're setting our sights on becoming carbon neutral not only as a council but as a district by 2030 together with our communities, as set out in our recently approved Climate Emergency Strategy and Action Plan. The measures to cut
carbon and connect with the local environment throughout our Sleaford Moor Enteprise Park show just how keen we are to achieve this, together."
Site-wide measures in the hybrid application include landscaping to bring in the natural environment, planting along the spine road to create a green backbone with emphasis on indigenous plants, tree planting in line with the council's tree strategy, sustainable drainage systems and attenuation ponds doubling up as water sources for wildlife and increased wellbeing.
Solar panels, UV light harnessing technologies for low-level lighting, empowering the use of electric vehicles and bikes, wildflower verges, tree planting, efficient insulation and use of natural light to cut down energy demand are some of the things to be explored in depth for each individual unit and surrounding plot at subsequent stages.
Sleaford Moor Enterprise Park would be an extension to the already established industrial area in the north east of Sleaford off East Road, creating potential for local supply chains, innovation and collaboration along with opportunity for connections with any new businesses drawn in by the site, according to the council.
The council states that it benefits from the strategic east to west access the A17 gives across Lincolnshire and its connections with the A1 and east coast ports, with the A17/A153 rugby club junction having just been upgraded and work to improve Holdingham Roundabout due to start early next year.
The council says it is also easily accessible by bus, cycle and on foot, including new pathways to accommodate this as sustainable travel choices. Amenities in Sleaford are within walking distance and there would be pedestrian access to new-build housing nearby at Holdingham Grange and the adjoining Sleaford Moor woodland for increased wellbeing.
If approved a tender process would follow, with infrastructure work expected to complete in 2021, says the council and phased development of units through to 2027.
The units would be available for leasehold and have a range of uses, mainly general industrial, warehouse and distribution with ancillary office space and potential for trade showroom use. Consideration would be given to freehold sale
of individual plots or constructed units, including 'turnkey' solutions.
It is designated a Strategic Employment Site as defined in the Central Lincolnshire Local Plan.
For more about the scheme, visit businessnk.co.uk