Development land sold to deliver 160 new homes near Sleaford
A house building company has bought up land to build 160 new homes for a housing association on Sleaford's new Handley Chase residential development.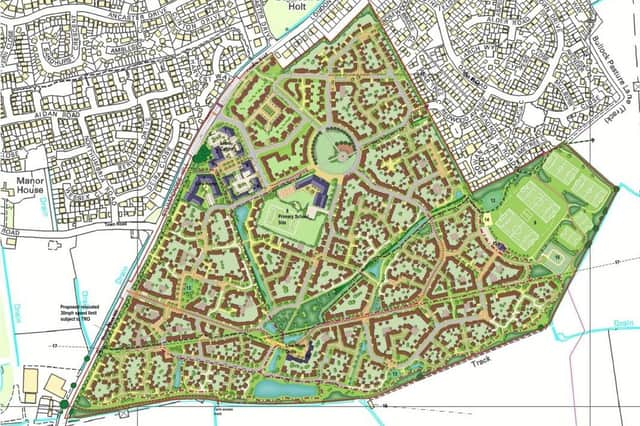 The proposed new scheme is within the Handley Chase sustainable urban extension (SUE) at Quarrington, a site designed by planners to accommodate a total of 1,450 homes along with community facilities. The development of these final two parcels of land will be delivered by Miller Homes in conjunction with Midlands-based housing association, Platform Housing Group.
Miller Homes committed to the sale in the summer and have acquired both parcels of serviced development land, set to pave the way for the 160 new homes to address local housing need.
They will now make their reserved matters planning application to deliver the new homes, with the aim of starting on site in the second quarter of 2024.
Ann Taylor, director in the property agent Savills Development team in Nottingham, has acted on behalf of the landowners Sleaford Property Developments Limited (SPDL) from inception of the scheme and has completed this sale with these two organisations.
She commented: "This final collection of new homes will add to the existing commitment of over 1,100 plots on site and we are confident that going forwards Miller Homes will work well with the other consortium housebuilders on site.
"Collectively, we are proud to have delivered this new community on the fringe of Sleaford town centre, which will continue to create new homes and jobs whilst providing significant Section 106 contributions to the area; enhancing both on and off-site infrastructure improvements, as well as contributions to health and education in the area."
Stephanie Parker, Land Manager for Miller Homes said: "It has given us a great opportunity to deliver 160 homes at the Handley Chase SUE, providing much needed housing in this area. We will now progress with the reserved matters application and anticipate starting on site in the spring of 2024 to deliver a mix of one, two, three and four bed homes, that will in part help address the housing shortage in the area."
Matt Carroll, Senior Land Manager at Platform Housing Group confirmed: "This is an exciting opportunity for Platform Housing Group to continue building on our excellent working relationship with Miller Homes, and crucially to bring forward much needed affordable housing to Sleaford and the wider North Kesteven area. The scheme will be delivered utilising Homes England grant funding and will seek to deliver a range of rented and ownership tenures to cater for an array of local needs."
Existing commitment on the site includes, a completed Co-op convenience store, a 67-bed retirement home just opened by Yorkare, over 90 new homes constructed by TBalfe as a joint venture with SPDL, 270 homes delivered by Keepmoat Homes and over 235 homes delivered by Taylor Wimpey. A further parcel of 390 dwellings is committed with a PLC housebuilder.
There are also planned to be public amenities in future including allotments, public open space, sports pitches, a community hall and a primary school.