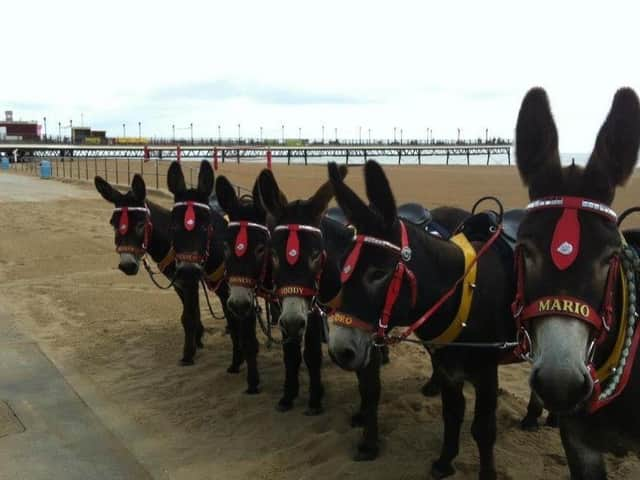 John Nuttall, a third generation tenant in East Lindsey who also has donkeys in Cleethorpes, had expressed his shock on social media that he had received invoices from the local authorities in East Lindsey and North East Lincolnshire before he was able to start working because of the Covid-19 lockdown.
Mr Nuttall said he had no idea how he could be expected to pay when he had no income. He also explained the problem has been exacerbated because there has been no rain for the grass where the donkeys are kept and the donkeys' feed is having to be supplemented with haylage, which has to be bought in.
East Lindsey District Council say they appreciate how important donkeys are to the success of the coast and are exploring ways they can help - but Mr Nuttall says North East Lincolnshire Council are still demanding payment.
The gofundme appeal to save the donkeys was launched by Sue Victor, from Nottingham. She says she has been overwhelmed by the support as her original target of £1,000 has already been smashed - with more than £2,300 raised at the time of going to press.
"When I was growing up we always came to the coast for holidays and having a ride on the donkeys was a treat," she said.
"I follow John Nuttall's page on Facebook and have enjoyed his posts on how the donkeys have been doing during lockdown.
"Then out of the blue on Thursday he posted that he didn't know whether he would be able to carry on through the winter because he could get no help from the government and the local authorities still wanted their money.
"It made me feel sick - It was such a heartfelt post and although I had never met the man, I just wanted to help."
Mr Nuttall posted: "One more month to go and then I will decide on wether or not I carry three generations of donkey work on.
"It's been a tough time for us and everyone else.
"I can't get help from the council or government, councils are still sending me invoices for this year's beach rent and have threatened to issue summons, although after a phone call they have put it on hold.
"But it still looks like we have to pay even with no venue to work.
"I will have to decide soon wether or not I have this winter's feed done, because I just cannot afford to keep animals without them earning."
Mr Nuttall has 65 donkeys currently on Nutshell Farm in Walls Lane, Ingoldmells. Last week's bill for haylage alone cost £250, he said.
"It's just so worrying," he said. "During lockdown we have been clipping the donkeys and worming them so they are ready for July 4 if we are able to start then.
"We are also bought PPE face sheilds and gloves and are looking at ways we can work to apply to social distancing guidelines, such as parents putting their children on the donkeys.
"We would also need double the numbers of staff on the beach to operate safely.
"However, to be able to afford to carry on I may have to look at pulling out of Cleethorpes.
"I am so grateful to everyone who has donated to the appeal and to Sue for starting it. It was such a surprise but wonderful to see how much support we have."
A spokesman for East Lindsey District Council said: "Tenants are invoiced periodically under the terms of their lease agreement. We encourage any tenants with concerns about not being able to pay rent to make contact with us to discuss their circumstances at the earliest opportunity.
"Whilst we appreciate for many concessions that operate in our coastal resorts it hasn't been a good start to the season due to the restriction in place as a result of Covid-19, it is hoped that as the Government relaxes restrictions those businesses that have been impacted have a successful remainder of the season.
"Skegness is a leading seaside resort and Mr Nuttall's award winning donkey rides are part of the reason for that.
"We continue to remain in close discussions with Mr Nuttall in order to help the best we can; and we look forward to Mr Nuttall and his donkeys returning to the beach in the not too distant future."
To support the appeal, visit the gofundme page here at www.gofundme.com/f/mablethorpe-and-Skegness-donkeys
* A spokesman for North East Lincolnshire Council said: ""We've been trying to work with Mr Nuttall for the last few months to try to resolve some financial matters that are outstanding from the last three years in terms of unpaid license fees. We've offered to look at a payment plan to resolve those outstanding fees for operating the concession on the beach. The debt recovery action has been put on hold while we confirm exactly how much is owed by Mr Nuttall. We are in conversations with him which we hope to resolve this week.
"In terms of business grants available to small businesses, we've written again to Mr Nuttall to explain that he may be able to apply for a Covid-19 discretionary business grant to help with cashflow, but he needs to make this application in order for us to be able to assess it.
"Of course, we understand that these are difficult times for all traders and concession holders, only worsened by the current situation around Covid-19, and we hope that Mr Nuttall will maintain contact with us to try to sort this out and bring a much loved attraction back to our beach when guidance allows."