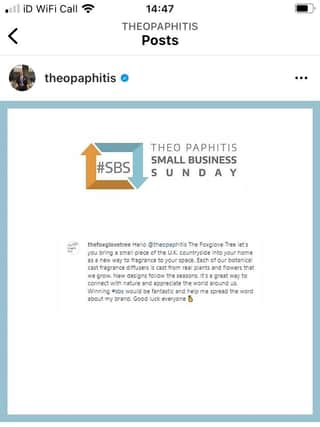 Last week, Clare Towers, owner of The Foxglove Tree, tweeted Theo about her Botanical Casting business during 'Small Business Sunday' and was one of six weekly winners to gain a retweet by Theo to his near half a million Twitter followers.
The weekly initiative, set up by Theo in 2010, now has over 3,000 #SBS winners and supports small businesses in the UK.
Business and retail entrepreneur and self-confessed Shopkeeper, Theo re‐tweeted The Foxglove Tree's message to his almost 500,000 followers and as a result, https://thefoxglovetree.co.uk/ has gained more followers and extra orders for their Botanical Cast Fragrance Diffusers.
They are also profiled on the #SBS website (www.theopaphitissbs.com) that is exclusive to all Small Business Sunday winners.
Clare said: "I have only been in business just over a year and still work out of my garden shed. It is great to have support from Theo because it's a fabulous boost in raising my business profile and Theo has recognised my hard work and helped spread the word about what I do to his following."
Small business champion and Ryman Stationery, Robert Dyas and Boux Avenue Chairman, Theo Paphitis, said: "We are thrilled to welcome new #SBS members every week and highlight just how important it is to support our small businesses here in the UK.
"My vision is that everyone who has ever won an #SBS re-tweet from me becomes part of a friendly club; like-minded individuals who can share successes and learnings.
"The website will also give a valuable profile to the winners chosen and I wish The Foxglove Tree every success."
Anyone looking for a re‐tweet from Theo should tweet him about their business on Sunday between 5 PM and 7.30 PM and include the hashtag #SBS.
Six businesses are then re‐tweeted every Monday at 8pm and then invited to enter their profile on the new website, attend the annual #SBS networking event and take advantage of the networking opportunities.