It was hardly the scene from two years ago when an early heatwave brought thousands to the seaside.
But after last year, when the arrival of the Covid-19 pandemic left the resort closed for business in the UK's first lockdown, the sight of people finally being able to get out and enjoy themselves brought a warm response.
One reader commented on a Skegness Standard post, "Fabulous to see the world returning to normal and people enjoying their lives again." Another said: "Looks beautiful day there. I'm glad people are enjoying Easter".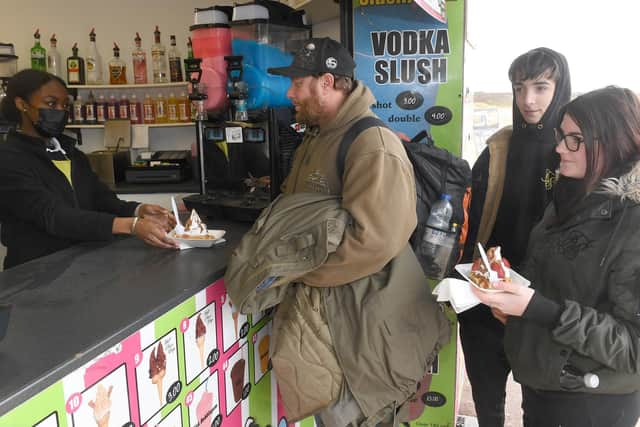 Ahead of the weekend, Lincolnshire Police appealed to people to 'stay local and respect Government guidelines to reduce risk'.
However, after months of being generally confined to four walls, it was inevitable some visitors would push the boundaries of what 'stay local' means.
One Sheffield family told our reporter they had thought the resort would be quiet so they decided to come have a walk on the beach.
This report brought a mixed response on social media. "It's Easter - people come out to the coast. Get over it," was one of the comments supporting visitors who had travelled the extra mile but looked like they were "behaving themselves".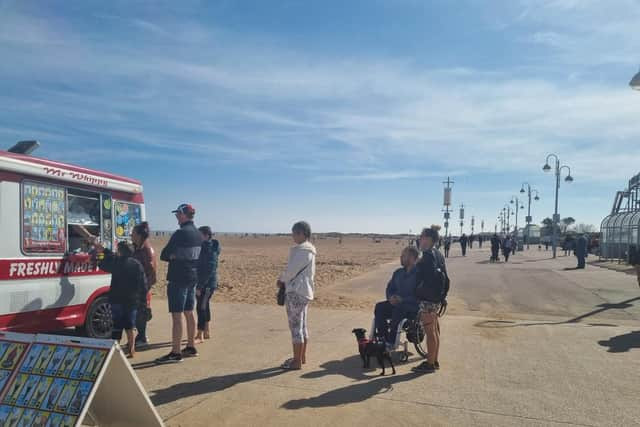 Another person from Sheffield who did follow guidelines to stay local was horrified. "I drove seven miles to give Easter eggs to grandchildren, who I have not seen for a year.
"I have had an injection, stayed in and felt like a criminal for going so far because all around Sheffield it says 'stay local'.
"So this couple from Sheffield drive 100 miles to Skegness? I can't wait until we can come, but I want it safe and this weekend will tell us."
East Lindsey District Council had endeavoured to ensure the weekend ran smoothly, in spite of the cold weather forecast for Easter, appealing to the public for their assistance.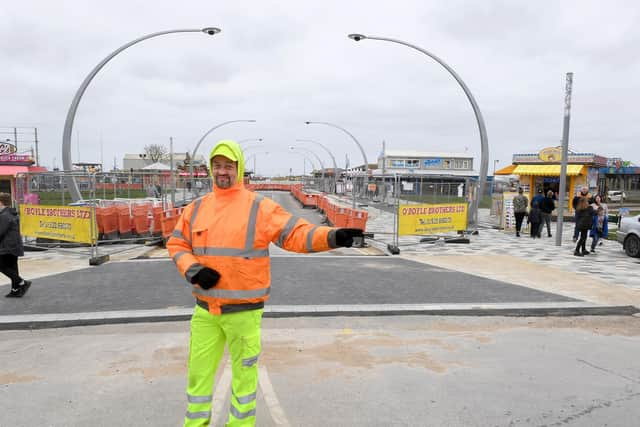 The authority reiterated their ''Care for our Coast, Care for our Countryside, and Care for our Communities' campaign' - calling on visitors take their litter home.
They also took steps to keep traffic flowing on Skegness seafront and prevent confusion caused by the access to the Festival Car Park no longer being near the Clock Tower down Tower Esplanade.
Marshals were on duty directing traffic at the Clock Tower and signage was in place along main streets, including Lumley Road.
After a quiet start to the weekend on Good Friday and Saturday, due to the cold weather, they reported things had picked up on Easter Sunday - a relief for some of the takeaway businesses that had opened up.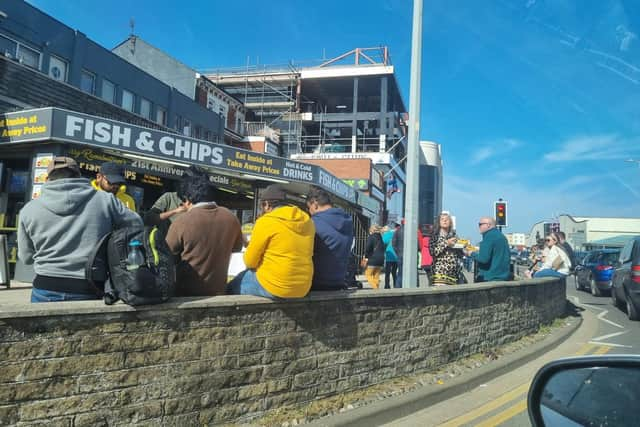 For Carl Wheaton of Seaside Treats, who has taken a kiosk in the newly pedestrianised Tower Esplanade, this will be his first season.
"We opened on Thursday which was very quiet but are using the time to set up," he said.
"It's been a worrying time and here's still a lot going on with the pedestrianisation but we have been told we can stay open now.
"Hopefully, when the sun comes out and as more restrictions are lifted, it will be a good year."
In town, Steve Matthews, of Discounts Plants in Drummond Road, was up at 4am on Good Friday preparing hanging baskets for any customers planning to do some gardening over the Bank Holiday.
"It's been a tough year," he said. "I haven't had any grants because we are a garden centre and have been allowed to stay open.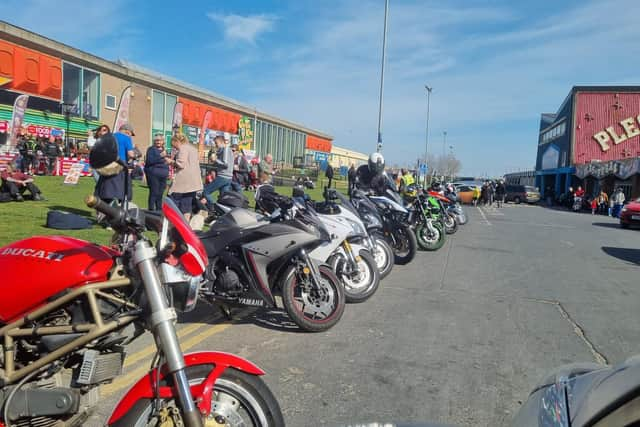 "I've lost money and had to dump £7,000 of plants. It has meant cashing in a pension to keep going.
"Everything here I've grown myself - all you can do is carry on and hope customers come back and support you."
A display featuring a larger-than-life Peter Rabbit welcomed shoppers to the Hildreds Centre at the High Street entrance.
With limited 'essential' shops allowed to be open due to the Covid-19 restrictions, it had been a quiet weekend and they stayed closed on Sunday, said manager Steve Andrews.
But that didn't stop him looking forward to the future. He said: "We are expecting it to be much busier for the next bank holiday, though, and even busier for Spring Bank Holiday because the restaurants and coffee shops, pubs and clubs should all be open and allowed to trade normally by then."
Visitors who did brave the cold, including a flurry of snow early on Bank Holiday Monday, went home happy. Scarlett Wilkinson, 14, arrived on Saturday with a party from Grimsthorpe.
"We always have an annual trip to Skegness but missed last year because of lockdown," she said.
"It was freezing but at the same time refreshing after spending several months staring at the same four walls.
"Our teenage years are flying by - we should be out socialising and can't wait until it is safe to do that again."
Lisa Collins, Place Manager at East Lindsey District Council, said: "It was good to see people adhering to government advice and taking the restrictions seriously, those that did venture to the coast were sensible and clearly enjoying the fresh sea air, ice cream and fish and chips. Sunday was the busier day, due mainly to the sunshine, people were enjoying a walk on the beach, crazy golf and meeting up with family and friends.
"We are now preparing for the next phase of restrictions easing and will be working with local councils and partners to support businesses to re-open safely and support the tourism, hospitality and retail industry. The governments Welcome Back funding will enable us to ensure we can support all sectors to have a successful summer.
Earlier in the weeks, outdoor sporting facilities re-opened. Ivor Samways of Sleaford headed to Seacroft Golf Course on Saturday for a round with his friend John Stead. He said: "I've missed the social side of the club and am looking forward to when we can hold events again.
"It was good getting out in the fresh air after months being cooped up in the house - and there's plenty of fresh air at Seacroft."