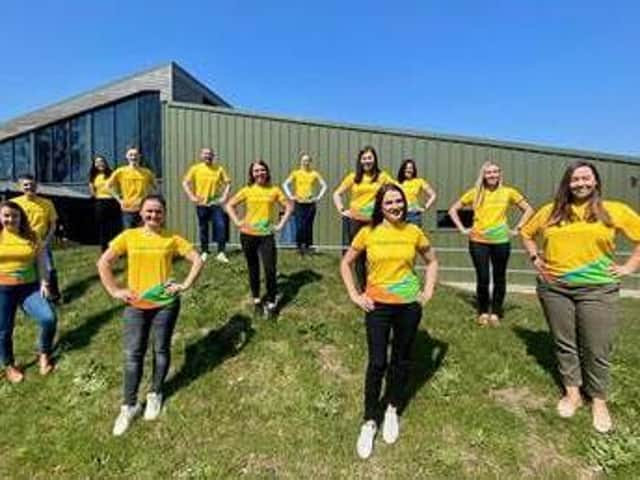 Aiming high - the team from Fairburn in Burgh le Marsh HQ who are taking part in the National Three Peaks Challenge.
Sixteen Fairburn staff from the firm's Burgh le Marsh HQ will be donning their walking boots and taking part in the National Three Peaks Challenge.
The team will scale Ben Nevis (4,409ft), Scafell Pike (3,209ft) and Snowdon (3,560ft) in just 24 hours. Each mountain takes around five hours to climb and the team will be completing a total walking distance of roughly 23 miles.
Fairburn's Eggs, which this year marks its 70th anniversary, has raised more than £60,000 for Farm Africa over the years. In 2014, CEO Daniel Fairburn and team climbed Mount Kilimanjaro and in 2018, he took part in two marathons across the Saharan desert.
Farm Africa builds sustainable livelihoods for rural communities in eastern Africa. It helps smallholder farmers, pastoralists and small businesses take advantage of commercial opportunities, while transforming land use in a way that reduces emissions, halts the rapid degradation of nature, and increases food security.
Daniel Fairburn, who will be joining the team, said: "As helping fellow farmers is a cause so close to my heart, I thought it was about time we took on another challenge to support Farm Africa; it's also our company's 70th anniversary.
"So, with international travel currently restricted, we've decided to take on the National Three Peaks. We're hoping to raise at least £40,000 for the charity which could make a real difference to so many farming families.
"Fairburn's Eggs have been dedicated supporters of Farm Africa. After a year like no other, we are delighted that the Fairburn's team is taking on this extraordinary challenge across the UK to support farmers and food producers in eastern Africa," says Jenni Bright, Director of External Relations, Farm Africa.
"The vital funds raised by the Fairburn's team will enable Farm Africa to reduce poverty by helping farmers to grow more, sell more and sell for more."
The team can be sponsored by visiting the JustGiving page here.