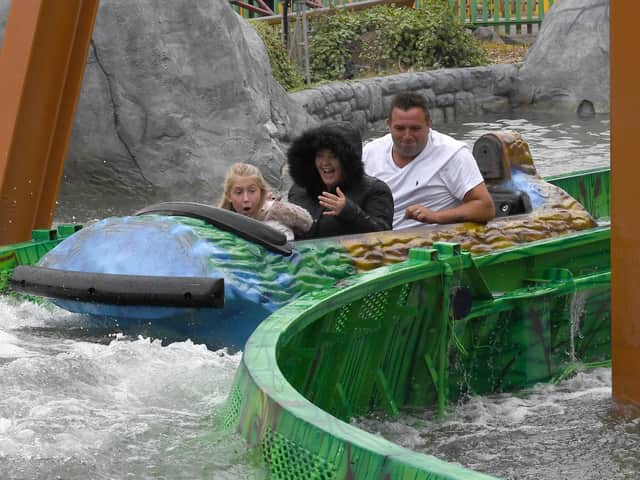 East Lindsey District Council's Executive Board have agreed to adopt a Local Development Order (LDO) at the Fantasy Island site in Ingoldmells, which will permit the owners to undertake certain developments on site.
The District Council began a 28-day consultation period on the development order at the start of June and, at their Executive Board meeting on Wednesday night, councillors agreed to amend the draft LDO to reflect the feedback received, before formally adopting it.
Whilst the Development Order does not remove consents required under other legislations, the Fantasy Island site has been split into three zones with specific developments allowed in each area, along with minor developments that would be permitted across all zones.
Examples of the permitted developments that Fantasy Island will now be able to undertake include: creating ancillary buildings and a children's play area at the onsite caravan park, allowing existing amusement rides to be relocated and new ones to be installed, the erection of new buildings that could be used shops, restaurants and bars, and the development of a hotel and amusement arcades.
With the LDO in place Fantasy Island will be able to continue their investment in the site without needing to wait for planning permission to be in place. This will also allow the business to be more responsive as customer demands and trends change over time.
Coun Tom Ashton, Portfolio Holder for Planning, said: "I'm very pleased to have been able to work with Fantasy Island on bringing this Local Development Order forwards. Due to the nature of their industry we know they often need to make changes across the site throughout the year, and when you have to apply for planning permission it's often not possible to do this quickly. A more flexible approach to developments will save time for both Fantasy Island and ourselves as the Planning Authority."
Coun Steve Kirk, Portfolio Holder for Coastal Economy, added: "The adoption of this LDO is fantastic news. Fantasy Island has been a mainstay of our coast for years, and the owners have shown a commitment to investing in the business and supporting the local economy, with the LDO in place this will be much easier. This will bring with it a host of benefits for the area including the creation of sustainable jobs and increased visitor numbers throughout the year."
A spokesperson for Fantasy Island said: "We are absolutely thrilled to have been granted our proposed LDO. This positive change will enable us to provide better than ever before experiences to our visitors. We are continually improving our resort to ensure customers from all over the UK visit the Lincolnshire Coast, increasing footfall and trade to all local businesses.
"Our customers are the heart of our business and it will always be our core aim to provide visitors with memories to last a lifetime."
"The Mellors Group (www.mellorsgroupevents.com) purchased Fantasy Island with the aim of building the best attraction and visitor experience possible and in their brief period of ownership, the Resort has undergone substantial investment, redevelopment and improvement.
"Fantasy Island's enhancements have helped support and secure approximately 1,000 jobs and have greatly improved the offer to all those visiting the area.
"Through a combination of leisure operating expertise and cash investment of over £10 million, the resort has seen the introduction of cutting-edge technology experiences, improved holiday accommodation and a number of new attractions.
"It has always been the core aim of the Mellors Group to offer visitors experiences and memories to last a lifetime and Fantasy Island has already seen the benefit of the family's drive and passion through increased visitor numbers, doubled customer dwell time and significantly improved customer satisfaction.
"The LDO will enable Fantasy Island to keep driving forward with innovative and exciting development and investment; helping to ensure the continuing draw of customers to the Lincolnshire Coast for staycations and fun filled family days out."