First business units complete at Sleaford Moor Enterprise Park
Work to build 15 units at Sleaford Moor Enterprise Park is now complete, moving the development even closer to welcoming in the first businesses to call it home.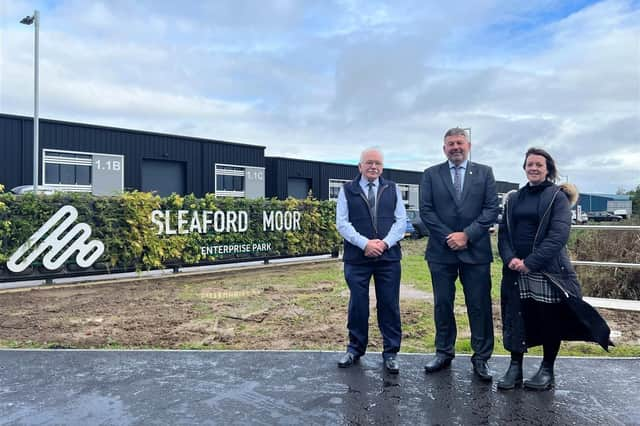 The units are built across plots one and three, which together make up phase one.
They have smart-looking dark cladding on the outside, while being bright and airy inside with high roofs and ample space.
They are all designed to meet business needs now and in future, by providing flexible space to grow and in reducing energy use through features including EV charging points, solar panels, and even skylights within the plot one units.
In plot one there are nine units ranging from 1,313 sq ft to 2,066 sq ft – these benefit from solar panels, energy efficient insulation and electric vehicle charging points.
Plot three contains six slightly larger grow-on business units from 3,369 sq ft to 5,123 sq ft and these have solar panels, EV charging points and more.
Among the final touches to come for phase one will include landscaping and further planting including native trees, and even some new roadside signage facing Pride Parkway contains planting.
The Council Leader, Deputy Leader and Executive Members, council officers, contractors involved in the build and local representatives including MP for Sleaford and North Hykeham Dr Caroline Johnson all met onsite on Thursday November 2 to officially mark handover of the units to North Kesteven District Council from contractors Smith Construction and Harlaxton Engineering.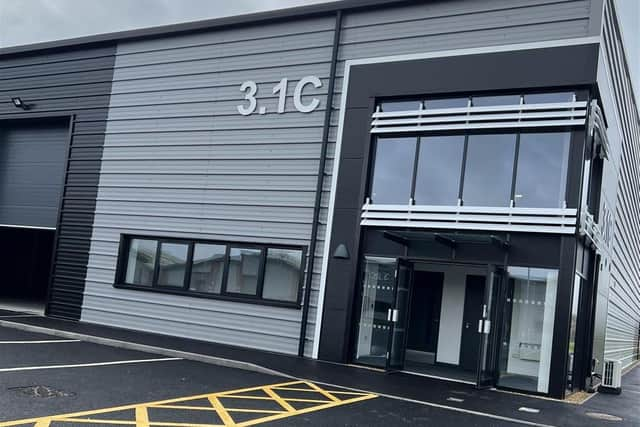 Council Leader Councillor Richard Wright said: "I'm so proud to see the first phase of units now complete at Sleaford Moor Enterprise Park, with just some final finishing touches needed to complete phase one itself. Our contractors have worked hard together with our teams to deliver this, creating units that demonstrate the high build quality and attention to detail that represents Sleaford Moor Enterprise Park, and I'd like to take this opportunity to thank everyone involved for their hard work.
"The next big moment will be when the first businesses get the keys and can begin to fit out the units to their specifications, and then move in. All of the six units in plot three are undergoing the legal preparations required before they can be handed over to businesses to fit out, so we're looking forward to this happening soon. Meanwhile, there are strong levels of enquiries for the nine units available in plot one, which is also very positive."
Following the visit onsite, MP for Sleaford and North Hykeham Dr Caroline Johnson said it was good to hear that some great local builders and contractors worked on this project, further boosting the local economy and developing good working partnerships within the Sleaford and North Hykeham area.
Eddisons including Banks Long & Co is managing enquiries for the site. Director William Wall said: "In spite of the challenging economic conditions, it's heartening to see that occupiers have continued to be attracted to these high-quality units with strong green credentials. The previously reported plot three leases are now close to completion, with potential tenants also ear-marked for six out of the nine plot one units. Notably, this includes businesses relocating into the district."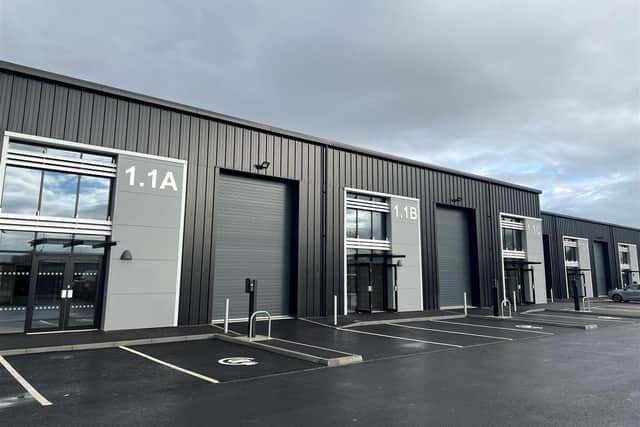 Local contractor Smith Construction in Heckington built the phase one units along with the civils and spine road, while Harlaxton Engineering in Grantham has delivered the site-wide utilities connections. Teams from both have worked hard to deliver phase one, overcoming various challenges.
Smith Construction Managing Director Ken Smith said: "Sleaford Moor Enterprise Park is one of the largest contracts Smith Construction has secured to date, and we feel it will be a huge benefit to Sleaford and its community. As a local company that employs local people, it's been great to showcase their skills on site.
"It's been a pleasure working along with North Kesteven District Council and Harlaxton Engineering to deliver such a prestigious project, and we want to thank all their teams for all their support throughout the works."
Harlaxton Engineering Managing Director Lucy Hibbert said: "It's wonderful to see the fresh new units on Phase one at Sleaford Moor Enterprise Park with the lights on after months of hard work, sweat and challenges with installing circa 6km of offsite 11kV cabling through the surrounding highways area to bring power to the site.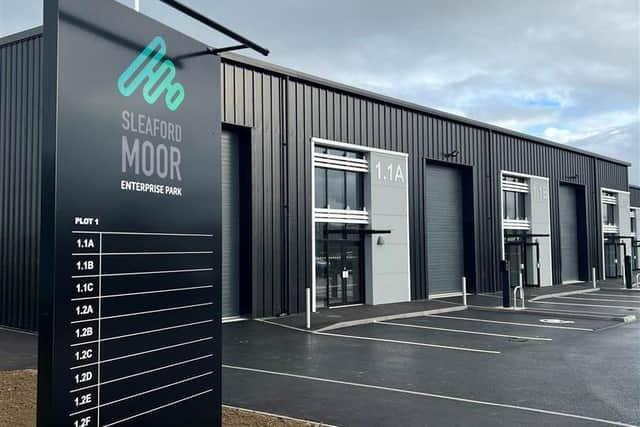 "The units themselves look great and we hope they are snapped up quickly by businesses. This scheme, like others, came with its own challenges such as requiring a directional drill through an area of Lincolnshire highways embargo. All in all, the collaborative working relationship with North Kesteven District Council and Smith Construction worked very well and I do hope Harlaxton will be involved in many more projects of this type in due course."
For more about the units available, visit www.bankslong.com or call 01522 544515.
You can also see the brochure at www.businessnk.co.uk