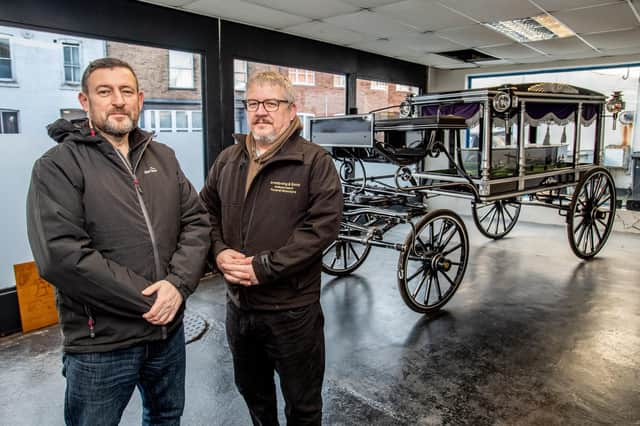 ​Mark Armstrong, owners of Armstrong & Sons Independent Funeral Directors, has been a funeral director for more than 30 years after meeting a funeral director while running his own car valeting service in 1990.
He moved the business to Upgate in August 2021, and his first funeral in the new premises was booked within 12 hours, despite the funeral home having no furniture as they were still moving in.
Business became so busy for Mark that he needed to expand, and he has now moved the business to its new location on Queen Street, in the former BMW garage, where the business has continued to thrive.
Armstrong & Sons prides itself on being a personal, inexpensive funeral service, with all coffins upgraded to a mid-range coffin at no extra cost, which are all hand-finished by JC Walwyn of Derbyshire.
"My care continues after the funeral, I don't just provide the funeral and then go away, I want to be there for the family as long as they need me," Mark said.
As well as authentic 18th century horse and carriage option for funerals, Mark also offers head stones on display in his premises which also come with free delivery and installation, and the choice of having 100 words carved onto the stone free of charge to avoid incurring extra costs on the grieving family.
There are now plans in the pipeline for Armstrongs to start providing an in-house stone mason and florist, so that everything can be done to plan a funeral in one place to keep costs down for the grieving family.
Mark added: "I want to be there for the families and as I'm a one-man band, I try to do everything and want to help them during this difficult time and not charge the earth."
Armstrong & Sons has also been nominated for the Association of Green Funeral Directors (AGFD) Good Funeral Awards 2022.