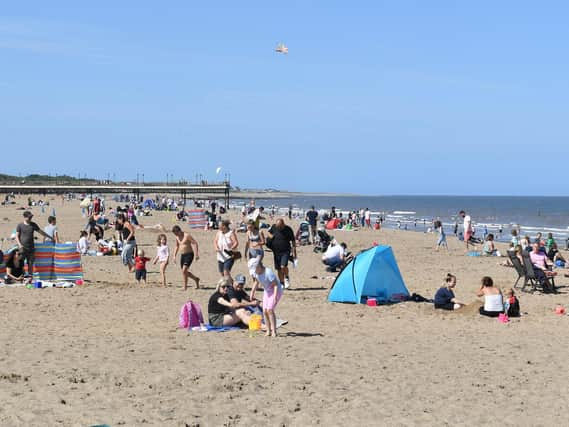 Thousands of families desperate to return to the beaches after easing of the Covid-19 restrictions came to soak up the sun at the weekend, in spite of the Which? magazine article and the bad publicity it attracted in the tabloid media.
But as businesses along the East Lindsey coast struggle to catch up on lost income, many owners have been left furious about the survey and the timing of publication - including the Mayor of Skegness, Coun Mark Dannatt who owns a pub here.
Which? asked 4,000 members before lockdown to rate the beach, attractions, seafront and scenery for more than 100 seaside towns and villages in the UK to find out which is best for a UK holiday, weekend beach break or just a day out.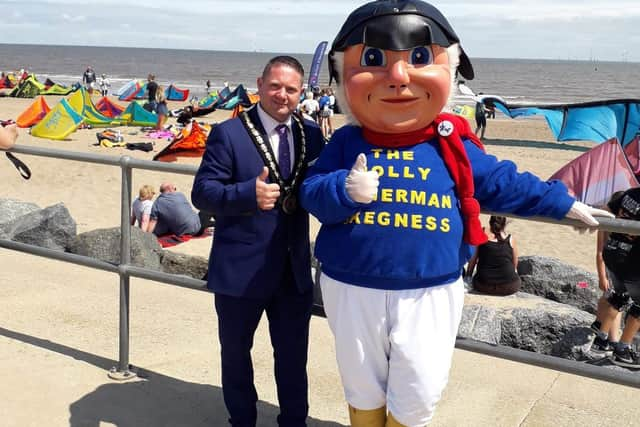 Coming out top in the survey was St Mawes in the corner of Cornwall - a destination that Which? agreed, when we spoke to them, does not cater for the families who visit Skegness.
St Mawes was described as 'a well-kept secret'. "There is no sand, but pebbly Summers Beach is good for rock pooling. There's no amusement arcade, either. Yet it's the lack of these things that make St Mawes special. It's a lived-in village rather than a tourist trap," states the Which? magazine article.
Bottom of the list and the 'worst' resort, Skegness only managed a 44 per cent customer score, achieving one-star ratings in each category, apart from the three stars for its beach.
Also in Lincolnshire, Mablethorpe was fifth from bottom, scoring 55 per cent, achieving four stars for it's beach, one star for attractions, two stars for scenery and value for money, and three stars for peace and quiet.
Cleethorpes was eighth from bottom with 54 per cent, scoring three stars for it's beach, scenery, value for money and t peace and quiet and two stars for attractions.
As a result of the survey, Coun Dannatt challenged the article published by the Daily Mail, which only gave the resort a couple of paragraphs, in spite of an interview with him which was not included.
The Daily Mail article stated about Skegness: "While some of those who spoke to Which? were scathing in their comments, going as far as to say the Lincolnshire town was "to be avoided," nature lovers highlighted the seal sanctuary and bird watching at the Gibraltar Point National Nature Reserve.
"There were also those who spoke fondly of a 'typical town that caters for all ages' and one visitor who told Which?: 'Don't be put off by the stereotypical opinions of Skegness. It's a well maintained, vibrant area'."
Coun Dannatt said he found it hard to understand "why anyone would want to print this poll after what the world has been through and still is going through at this moment in time."
He said: "There is never a good time to throw negative points across and certainly not at this moment in time so whoever decided to print this nonsense should be ashamed.
"I asked the Daily Mail where the 4,000 people who did the survey were from what is there household income.
"I also stated that Skegness has beautiful award-winning beaches with lots of open space.
"I was told that Skegness is expensive. Nonsense, we are cheaper than most resorts for accommodation, fish n chip's, ice cream and other refreshments from Whitby Down to Southwold.
"If visitors want quieter, picturesque destinations, we have Donna Nook to Gibraltar Point, where families to stroll our coast without having to spend anything at all.
"Skegness leads the way with all the investment that continues to be ploughed in it by the private sector.
"We have so much to offer, including Natureland Seal Sanctuary, Skegness Aquarium, fun fair, crazy golf, arcades and so much more family fun for all ages.
"If Which? would like to see for themselves, we would love to invite them."
A spokesperson for Which? said the survey did not set out to slate Skegness but aimed to focus on the good aspects of resorts.
The magazine shared some of the comments about Skegness, including:
- The seafront gardens are amazing. Walk them from the Southern end of the Boating Lake to North End., pass Fairy Dell, the kiddies' paddling pool, walk along the waterway, under the Pier, bowling greens, the Suncastle. It's a hidden gem!.
- If you want peace-and-quiet with big skies and seas (for walking and / or bird / wildife spotting), but still basic holiday town facilities, go out of season.
- Plenty to see, typical old fashioned seaside town. Known locally as Skeggy, also known as Nottingham-by-the-sea. Great for kids at a reasonable price.
- Seal sanctuary, good area for bird watching
The Which? spokesperson said: "There were a lot of positive things said about Skegness and we don't think it deserves to be bottom either.
"In our article in the magazine we tried to focus on the good not the bad.
"However, the survey was limited to Which? members and, as such, Skegness did not score well.
"I have never been to Skegness and after all the lovely comments I would love to come."