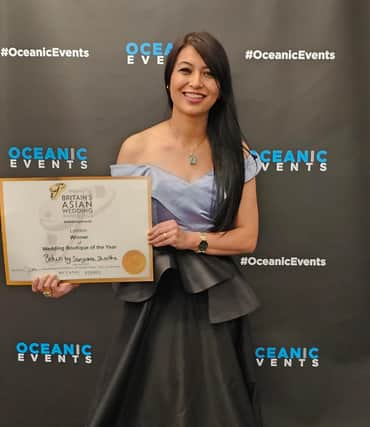 Sanyukta Shrestha has been announced as a winner of the Wedding Boutique of the Year 2023 Award in London by Britain's Asian Wedding Awards on Tuesday (April 23).
The sixth Britain's Asian Wedding Awards 'black-tie' ceremony, organised by ethnic awards events company Oceanic Consulting and held at the Holiday Inn Hotel in Birmingham, saw Sanyukta Shrestha awarded Wedding Boutique of the Year 2023.
The awards celebrate the top names that create fairy-tale unique weddings and are an integral part of Britain's ever-growing Asian wedding industry, worth in excess of an estimated £3 billion.
Sanyukta has been described as a "pioneer in the concept of sustainable luxury" since the first launch of her eco-friendly brand in 2011, winning multiple awards over the years, including the PETA Luxury Vegan Wedding Awards in 2021.
Since the day that her flagship boutique in London opened its doors in 2012, Sanyukta Shrestha has stood out in the bridal industry with her promise to fight for an ethical workforce and the environment by representing a sustainable choice for brides and a business that leads by example by giving back to the community, supporting women empowerment.
Each of her designs reflect many hours of meticulous work using hand-spun and hand weaved sustainable materials, creating a luxurious, sustainable, vegan and ethically made "one of a kind" piece.
Her designs have been worn by celebrities like Victoria's Secret supermodel Candice Swanepoel, American girl band Fifth Harmony, Soprano's Natalie Coyle, and Laura Wright and actress Amy Nuttall.
Designer and founder Sanyukta said: "As a designer with a diverse background, I feel gifted to be able to understand cultural needs and fulfil a bride's dreams by weaving her heritage and family values without compromising her unique vision and personality.
"Winning this prestigious award surely means a beautiful milestone for our team's dedication, service, and integrity in the Wedding Industry and for our brides."
The past 12 months have already proven to be memorable for Sanyukta, as not only has she attended the world premiers of hit Hollywood films and walked the red carpet with a host of A-list celebrities.
She also saw her sustainable couture Pippa gown, made of newspapers from the 1980s, chosen as one of the ten curated unique displays at the 'You Choose' exhibition in the Fashion Museum, Bath.
Ashish Shrestha, co-founder and managing director of the pioneering bridal business, said: "We would like to thank Britain's Asian Wedding Awards 2023 for the incredible honour.
"This is the second time winning this award, and we are very humbled and grateful for all our brides and supporters who voted for this Award and became an integral part of our brand identity and success."
A Spokesperson for The Britain's Asian Wedding Awards 2023 said: "These Awards are now recognised as the leading celebration for showcasing those that have demonstrated excellence in the industry.
"With every year that passes, we watch the Asian wedding sector grow and flourish in the UK with greater creativity, grander set-ups, and happier couples.
"This industry is shaking markets and impacting the economy at an unprecedented rate."