Katherine Jenkins's stunning Poppy dress on display in Horncastle
​Not only has the town come together to mark Remembrance Day, but a stunning window display has also paid tribute to those who gave their lives in the world wars.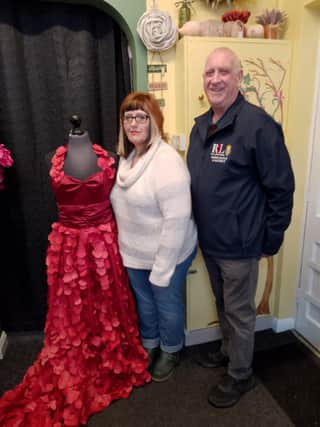 Retro and vintage shop Kennedy's in Horncastle has seen a beautiful red poppy dress in the window, which fans of opera singer Katherine Jenkins may recognise.The Welsh songstress wore the dress for the 2006 Poppy Appeal Launch in Convent Garden, and it was made by Mrs Ann Readman of Woodhall Spa, designed by her grand-daughter Mollie Prior for a university project.
Mollie was in London during Remembrance celebrations when a Lancaster Bomber dropped thousands of poppies over the city, and she became inspired to design a dress made from these poppies, and asked her grandmother to help her design it.
Owner of the shop, Kim Kennedy, learnt of the dress after purchasing some vintage dresses from Mrs Readman, who kindly agreed to loan the dress for the Poppy Appeal.
Royal British Legion Poppy organiser Julian Millington then visited the shop last week to thank Kim for her wonderful window display.
Kim said: "We've had plenty of people coming in to admire the dress and i t's gone down really well, and hopefully it's inspired people to donate to the cause."