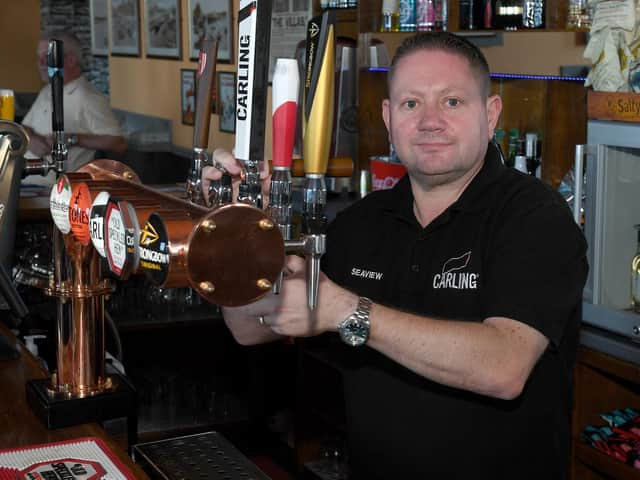 Mayor of Skegness Coun Mark Dannatt welcomes moves to extend the season.
Crowds flocked to Skegness on Bank Holiday Monday - a welcome end to the summer holidays but traditionally followed by a quieter time for the resort before the end of the season in October.
The pioneering move to help businesses affected by the Covid-19 pandemic was announced earlier in the year as restrictions began to be lifted and visitors were allowed to return.
Councillors want a Local Development Order in place by October to allow businesses to recover.
The couple in deck chairs on the pier are Robert and Sue Tough off Skegness (contact 07710 053622) Robert and Sue Tough of Skegnes enjoying some Bank Holiday sun on the beach.
Surveys across the county have already shown the serious implication of lockdown on businesses, chairman of ELDC, Coun David Andrews told the Planning Policy Committee back in June.
"We need to do all we can to help,"he said. "A number of people have asked about flexible planning control, which would allow businesses to open over winter."
Paul Dixon Chair of Skegness Area Business Chamber said it has been a "tough year for everyone". He said: "We are fully behind the proposals to extend the season for as long as possible.
"It is essential for business to make up for lost revenue in order to meet their financial obligations and we do believe that there is some demand for late holidays.
Dean and Roe Mollart of Nottingham, with Everley 5 and Ophelia 7 on the beach in Skegness.
"After the year we have all had what could be better than spending time on our beautiful coast."
The move is also being supported by the chairman of the Visit Lincs Coast BID, Coun Sid Dennis. He said: "Both myself as well as the BID Board of Directors and Nicola McGarry Lincs, Coastal DBID manager, are in full support of the extended season and LDO initiative and have been lobbying heavily with both LCC and ELDC members on planning and policy committees to bring into fruition.
"Nicola has previously contacted Tim Leader ELDC Executive Director for Economic Growth in support of the initiative and invited him to join a recent Board meeting to update the BID on the plans and to answer any questions we had, which we found extremely useful.
"Coun Craig Leyland, leader of ELDC and Coun Steve Kirk portfolio holder for Coastal Economic Development assure me that teams are working incredibly hard to bring a positive conclusion and hopefully an announcement will be made late September early October to enable us to take next steps."
Skegness beach on August Bank Holiday Monday.
Mayor of Skegness Coun Mark Dannatt said he supported any move to extend the season.
Coun Dannatt, who also owns the Seaview Pub on North Parade, said: "We want our visitors to keep coming back.
"I think extending the season is a great idea so visitors can see what we offer here in Skegness all-year round because they can visit the arcades, bowling alleys, Natureland, Skegness Aquarium and many more places - some even on Boxing Day and New Year's Day.
"We are an all-rounder resort for families of all ages even out of season, so we need to get the message out there.
Visitors making the most of Bank Holiday Monday.
"I welcome the extended season and hopefully we can create further employment for our locals whilst rebuilding the economy."
Steve Andrews, manager of the Hildreds Shopping Centre, said it was important businesses knew the pland to extend the season were being discussed so they can let ELDC know they are behind it will will stay open.
He said: "I would like as many businesses, caravan parks and entertainment venues to know about this so that they can make the decision to stay open.
"I am hoping that this will boost the winter economy and we will be able to share our figures with ELDC to make a case to continue to extend the season until the first week in Jan every year.
"I have often said that the October half term is important to the Skegness economy as is Christmas of course. Traditionally footfall increases by around 30,000 over the October half term week and we have as many visitors throughout December as we do in June so this can only help and improve what is already there.
"I hope all businesses will seize this opportunity and stand together with the ones that will be open to help promote the town and area as being open for business."
It is hoped visitors will keep coming back to Skegness even though the summer holidays are over.
Some businesses are already making plans. Demand for holidays in September, October and November at Southview Holiday Park - a Parkdean resort - has almost doubled.
As a result they will be running an unprecedented range of 'spooktacular' Halloween activities and events during half-term, including the Monster Ball, Zombie Fun Runs, Pumpkin Carving, Face Painting, Fancy Dress Competitions, Ghost Walks, Halloween Shows, and Pottery and Crafts classes.
Steve Richards, Chief Executive of Parkdean Resorts, said: "People have really fallen back in love with the Great British holiday, and we're pulling out all the stops to make sure holidaymakers and holiday home owners can make the most of their staycation this autumn.
"Our teams on park have done a fantastic job and we're determined to finish the year with a bang."
*Any levy payer requiring help or guidance regarding plans for an extended season are invited to call the Lincolnshire Coastal BID office on 01754 611845.