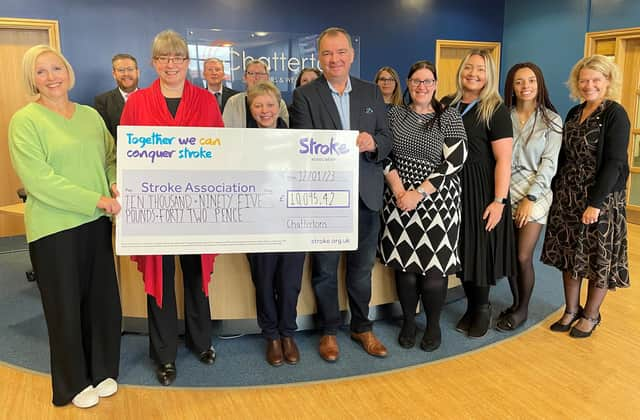 Chattertons Solicitors and Wealth Management accumulated the sum over the course of last year in support of the Stroke Association, its chosen charity for 2022.
The cause was nominated by Margaret Chambers, part of the team at the business' Boston office, after her husband, David, experienced a stroke in 2021.
She thanked all those who supported the fundraising drive.
"This charity is very close to my heart and the money raised will be vital for helping others like my husband, Dave," she said. "Thank you all again for your support."
Fundraising efforts included sponsored walks, 10-pin bowling, quizzes, bake sales, and sweepstakes on Strictly Come Dancing and the football World Cup.
Katherine Bunting, partner and head of Chattertons Charity Committee, said: "The total figure raised of £10,095.42 exceeds our target for the year and is a fantastic achievement."
Lucy Burnip, relationship fundraiser for the Stroke Association, also gave thanks to those who supported the fundraiser.
She said: "Our hope is for there to be fewer strokes in the future. The money you have raised will fund ground-breaking stroke research projects to help take us closer to making this a reality, thank you."
​The business is now planning a calendar of fundraising events for Dementia UK, which was chosen as the 2023 Charity Of The Year following a staff vote.