Pubs and cafes got their first chance in months to really show the hard work they have done to make their venues safe and welcoming.
As the car parks filled, the seafront was bustling with families and groups taking a break to enjoy a drink and something to eat.
Visit Lincs Coast (BID) said it was good to see visitors returning. "Resorts were very busy and people appeared to be very positive and happy to have some freedom," said BID manager Nicola McGarry.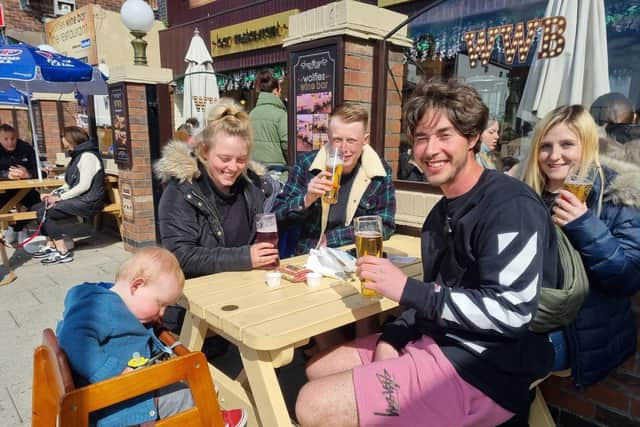 One group visiting from Chesterfield who were sat having a drink at Wolfies Wine Bar told the Standard they were really enjoying being able to have a ride out and enjoy having a drink with friends.
Outside at the Lumley Hotel there was music and staff on hand to ensure customers were socially distanced.
Churchills Wine & Sports Bar had made the most of their covered outside space and also had tables stretching on to the grass verge.
Fish and chip shops were also doing a good trade. The Trawlers Catch was keeping customers entertained outside with a new display where pirates talk and move and cannons fire with real smoke.
"Visitors really love it - you wouldn't believe how many positive comments we have had," said owner Taj Bola.
In Winthorpe, visitors were pleased to see the sheltered outdoor service area at The View cafe bustling, with a 'Welcome back' entrance and a takeaway ordering hatch to the promenade for its 'street food', snacks and drink.
With just two weeks before the next Bank Holiday, signs are certainly looking good for a busy season ahead.