Lincolnshire's largest ambassador network hosts first annual conference
Ambassador network, Team Lincolnshire, hosted its first annual conference last week, at Lincolnshire venue Hemswell Court.
Watch more of our videos on Shots! 
and live on Freeview channel 276
Visit Shots! now
Team Lincolnshire is an autonomous partnership of private and public sector organisations, united by the goal of championing a stronger local economy.
Set up in 2017, Team Lincolnshire has grown its community to 140 ambassadors who use their skills, knowledge and experience to support local business, attract investment and promote the Greater Lincolnshire region.
The half day annual conference sponsored by Team Lincolnshire member Pygott & Crone, was opened by the Chair of the Steering Group, Emma Olivier-Townrow, and keynote speakers Dean Richards, Rugby Union legend, and Stuart Henry, former head of Orange Telecoms, spoke about leadership and the importance of collaboration.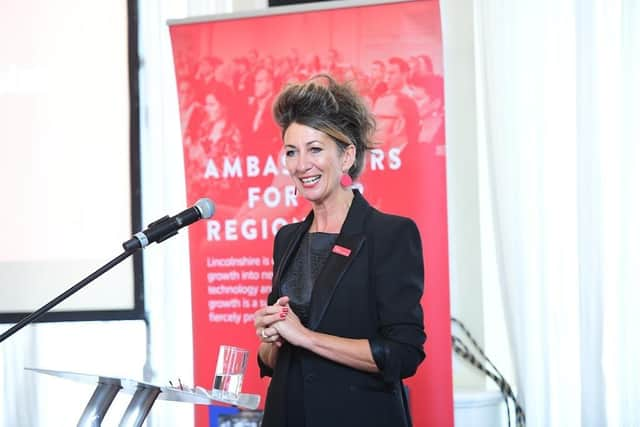 Tony Reynolds, Inward Investment Manager at Lincolnshire County Council and lead of Team Lincolnshire, gave an update on the 2023-25 Team Lincolnshire business plan and discussed its next chapter.
Tony shared that to better serve its ambassadors, the Team Lincolnshire offer is being enhanced by moving to a sector-specific model, which will elevate the support package Team Lincolnshire provides.
One of the enhancements will include ambassadors being able to attend events specific to their industry, as well as a more streamlined process for them to access bespoke business support, investment and new business opportunities.
Tony Reynolds said: "Team Lincolnshire is fantastic example of ambitious people working together to make our region an even more desirable a place to live, learn, work and invest. Working together we break down barriers, foster collaboration and create a more fertile environment for businesses of all sizes to our area - to attract investment, encourage sustainable growth and promote Greater Lincolnshire on the regional, national and international stage.
"Following a fantastic six years of collaboration and success, we are further strengthening and defining the Team Lincolnshire proposition. With our new sector approach, we are making it more commercially beneficial to our ambassadors and they can expect a more bespoke package of support. This will give them access to relevant commercial opportunities and enable them to further thrive in Greater Lincolnshire.
"The annual conference was a real celebration of how far we have come as a group, all that has been achieved, and looking forward to the next evolution of Team Lincolnshire. I want to thank all our ambassadors who give time and energy to improve the prospects of not just their own businesses, but also the Greater Lincolnshire economy - which benefits us all.
"We are excited for the next phase of Team Lincolnshire, creating more opportunities and welcoming new members."
Cllr Colin Davie, executive councillor for economy and place at Lincolnshire County Council, said: "I'm incredibly proud of the Team Lincolnshire programme and all we have achieved. The businesses involved are fantastic ambassadors for Lincolnshire and are able to learn from and work with each other, strengthening our county economy. It's also a great platform for us to be able to engage with the commercial sector and understand their needs. The growth in the number of businesses involved in Team Lincolnshire is a testament to its success."
Team Lincolnshire continues to expand its community, and to broaden its representation of sectors and geographical locations, it is encouraging businesses across Lincolnshire, and those within agri food and tech, low carbon energy, defence, advanced engineering and manufacturing to reach out and discover the benefits of becoming an ambassador. To find out more contact [email protected]
As a member of Team Lincolnshire, ambassadors have access to an annual calendar of events that bring together relevant businesses for opportunities and collaboration. Events include regional and national conferences, online presentations, and ambassador-led events.