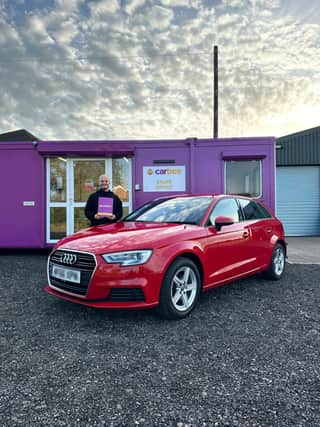 CarBee, Bar and Away, and Air-Switch have all moved to Revesby Estate's new commercial units, which opened earlier this year.
The three companies now have plans to expand, creating new jobs and supporting the local economy.CarBee is a family-run car dealership, selling high quality second-hand vehicles as well as providing car servicing and after-care.
Another family-run business, Bar and Away offers on-the-go beverage services for events such as weddings and birthdays.
Meanwhile, Air-Switch specialises in air-conditioning units, air source heat pump servicing, cellar cooling and facilities maintenance.
Chief executive of Revesby Estate, Peter Wiggins-Davies, said: "I am really pleased to welcome three new, exciting and ambitious businesses to our historic country estate. Being based on our beautiful estate in an easily accessible area, they're making the most of the inspiring setting and our modern, flexible and practical premises.
"It used to be the case that young businesses would gravitate toward big towns and cities, but that's no longer true.
"Thanks to government guidance, councils are allowed to permit sustainable developments in the countryside that create employment opportunities. We've been able to build an ideal environment - creating multiple jobs and a greater offering of services and products to our community.
"We are thrilled that these three thriving businesses have successfully established themselves on our estate and we can't wait to see how they develop."
CarBee is a nationwide car sales outlet, which also offers various vehicle services to the local community. This includes servicing, brakes, tow-bars, window tinting, tyres, exhausts, batteries and more.
The firm moved to Revesby Estate in 2022 with three new roles being created by the move. There are also plans to expand the business through their 'AfterBuzz' initiative - which focuses on after sales services.
Andrew Biggs, Director at CarBee Ltd, said: "We identified Revesby Estate as being the perfect place to establish our nationwide distribution centre, and it has enabled us to sell and deliver cars as far north as Inverness - whilst keeping our overheads down.
"Through word of mouth, advertising on the radio and several leaflet drops, we have seen a huge increase in local custom which we're really proud of.
"We have the perfect location and site for our business - when we ever have an issue, Revesby Estate is on it immediately. It's like a community and the mutual respect between us is something that we value very highly."
Bar and Away Ltd is a family run business that moved to Revesby Estate in February 2023. The firm offers a horse-box bar, which can be customised for any event from weddings to festivals, garden parties and corporate events.
The business currently employs three people with plans to expand significantly in 2023 as a result of moving to the estate - including plans for an indoor bar, another horse-box bar and a trailer to add to its portfolio.
Adam Holmes, Director at Bar and Away Ltd, said: "We chose Revesby Estate due to the unit being of great quality, with new lighting recently installed, good access and it was also reasonably priced.
"We very much like the relaxed atmosphere of renting a unit from the estate and enjoy the flexibility that comes with it. Revesby is a nice location and very safe and secure with electric gates and CCTV - giving us complete peace of mind."
Air-Switch Limited was founded in 2021 and is a family run firm, having moved to Revesby Estate in February 2023.
The directors formed the business with the aim of delivering high-quality solutions and exceptional customer service at a reasonable cost. Services include the design, installation and maintenance of air-conditioning and ventilation systems, as well as air-source heat pumps.
Fran Nash-Smith and Martin Vowles, Directors at Air-Switch Limited, said: "We have found the professional and friendly approach taken by the team at Revesby to be a great match for our own business ethos.
"The move to the Revesby Estate unit in Moorby is the perfect platform to continue to expand and grow our business - both by becoming a local employer and also in attaining further industry accreditation and quality standards recognition.
"As a result of our move to the estate, we're now looking to expand and provide an apprenticeship to offer an exciting training opportunity to the local community."
The expansion of the commercial development at the estate is as a result of East Lindsey District Council following national government guidance to permit sustainable developments in the countryside that are in-keeping with the environment and result in the creation of employment opportunities.
For more information about commercial units at Revesby Estate, email [email protected] or visit www.revesbyestate.co.uk.